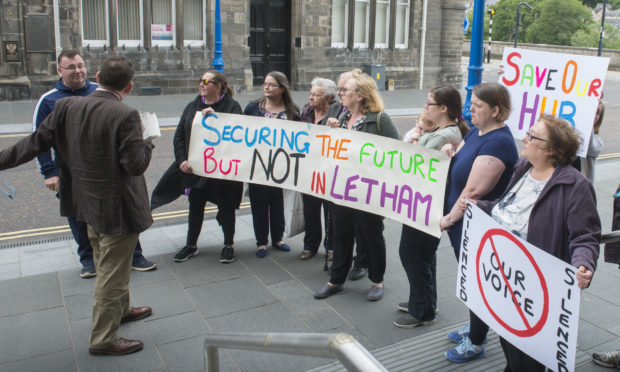 A highly controversial budget plan has been voted through by councillors, despite outcry from communities across Perth and Kinross.
A £50 million redevelopment of Perth High School has been made a top priority in the Tory-led administration's new capital spending plan.
In order to pay for the scheme, Perth and Kinross Council will withdraw millions of pounds of funding from several key projects including the long-standing PH20 swimming pool project and a planned £14m replacement for Pitlochry Primary.
Protesters gathered outside Wednesday's budget meeting to demonstrate against the cutbacks, which will see funding for a new health and well-being hub at Letham slashed by about 60%.
The group shouted "ridiculous" and "shocking" as the plan was approved in a 20-15 vote.
Councillors voted against a budget proposed by the SNP, which suggested retaining funding for the swimming pool project, a further £6m of improvements to closure-threatened Balhousie Primary and the full £2.4 million for Letham.
Leader Murray Lyle said that, under the capital budget, nearly £610 million would be spent on schools, infrastructure and open spaces.
Around £193 million will be spent on making schools "fit for purpose".
He said: "Overall, this investment will ensure our young people have modern, dynamic and inclusive learning places to give them the best possible chances during their early years."
He said it was "disappointing" that the Scottish Government's Scottish Futures Trust had declined to contribute to the new Perth High School scheme, which he said would benefit pupils from the city as well as surrounding rural areas.
"To date, discussions with the Scottish Government have proved fruitless," he added.
The budget also includes a £6 million upgrade of school technology and £35 million for flood prevention schemes.
Councillor Dave Doogan, leader of the SNP group, called for backing for the PH20 project.
"PH20 will be a generational investment in sport and recreation for Perth and Kinross and will, if commissioned correctly, represent a vital visitor attraction for East Central Scotland," he said.
"Make no mistake, with no significant investment… PH20 will likely not go ahead, and in the event that it does, it will be a pale imitation of that which could have been delivered if this administration had either the ambition or imagination to fund it properly."
The SNP plan also included a £2.5 million School Estate Equity Fund, which would help improve schools which did not meet the criteria for a new-build.
The new Blairgowrie Recreation Centre will go ahead as part of the new plan, albeit with its budget cut by £3 million.
Plans to build primary schools at Pitlochry and Oudenarde have also been scrapped.
Speaking after the meeting, Maggie Brown, of the Letham Community Hub Project, said: "I am absolutely disgusted. The new hub at Letham is something we have been promoting on behalf of the council for a year-and-a-half, and then they turn around and do this.
"Yes, education is really important. But what is there for kids to do when they are not at school?"
New political partners set out stall with plan of their own
An alternative spending plan, proposed by independent and Labour councillors, called for the closure of Pullar House and a brand new secondary school at Scone.
Formed just six weeks ago, the new political partnership put forward their radical vision for the Fair City's future.
Their 10-year budget, which was voted down by the rest of the council, included plans to replace both Perth Academy and Perth High with a 1,500 capacity school as part of a £79 million new campus to the south of the city.
The new building would have featured a full leisure hub and new £10 million office block.
A £42 million secondary school with a 1,200 roll was also proposed for Scone.
And there were calls to reinstate funding for a £14m replacement primary school at Pitlochry.
Money for the investment would have come from savings made by closing down Pullar House, the council's largest office block, when the lease on the property comes to an end in 2025.
It would be replaced by offices at the new campus, under the rejected plans.
Independent councillor Xander McDade said the package was a taste of what is to come.
"This budget gives a clear signal of the future intent of our new group," he said.
"We have worked hard and found funding to match our ambition for the future of Perth and Kinross."
He said: "We presented this balanced budget to show what can be done with an injection of fresh thinking to the council.
"Those who live in rural areas should not have to accept second best when it comes to buildings in which their kids are educated."
Labour councillor Alasdair Bailey said: "I'm immensely proud of the ambition shown in this proposal.
"It goes to show that, with some joined up thinking, it is possible to continue to deliver excellent education and leisure facilities locally in spite of limited spending."