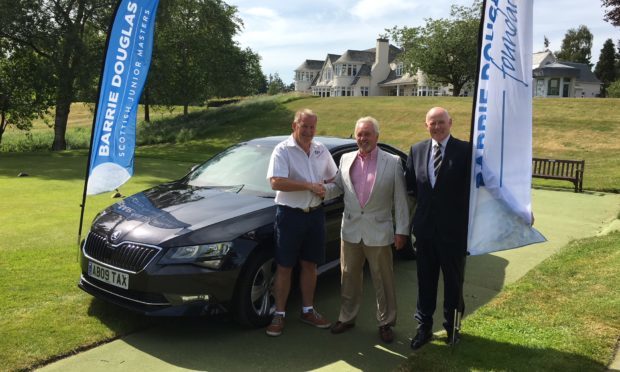 A Perthshire golf club which hosted the 2014 Junior Ryder Cup is rolling out the welcome mat for star-studded US state teams.
The "Blairgowrie US Junior Invitational" will be played over the Rosemount and Lansdowne courses from July 8 to 10, with six American teams joined by a Perth and Kinross select and a Scottish team supported by the Barrie Douglas Foundation.
The tournament, which will provide spin-off benefits for the local economy, builds on the success of a match last year between Blair youngsters and a touring side from Arizona.
Neil Wilkie, junior convener at Blairgowrie Golf Club, said: "It has all developed from discussions following last year's successful match with the team from Arizona led by coach Brian Volmer hosted so well by Blairgowrie. Brian has co-ordinated everything at the US side.
"This is the big event on their tour but the Americans will also be playing in the St Andrews and North Berwick areas. It's another feather in the cap for Blairgowrie.
"This year we will have six-person under 18 teams competing, six from America and two from Scotland, which will be a Perth and Kinross select managed by Bradley Neil's dad Rodney and a Scottish side supported by the Barrie Douglas Foundation and led by Spencer Henderson, the national junior coach.
"We have four state teams from Utah, Illinois, Arizona and Colorado and composite state teams featuring players from Ohio, Iowa, Florida and Missouri.
"The quality is pretty impressive, with five US state champions in the visiting party.
"It is about building bridges between quality young golfers here and in the USA. There may well be some of our youngsters thinking seriously about college scholarships in America and this is a chance to meet potential compatriots and sound them out about the best golf schools."
The Barrie Douglas Foundation team is being backed by Perth firm A&B Taxis and the Salutation Hotel.
Jimmy Turriff, A&B Taxis director, said: "Everyone on the local and national golf scene seemed to know Barrie and we are delighted to support the Scottish team taking part in the Invitational. I can see this going from strength to strength in years to come."
Neil added: "It's all mushroomed very quickly so it is very exciting and daunting at the same time.
"There are also real spin-off benefits for the local economy. The US visiting party including coaches and parents will extend to around 70 people and they are staying locally in Blairgowrie and Alyth."