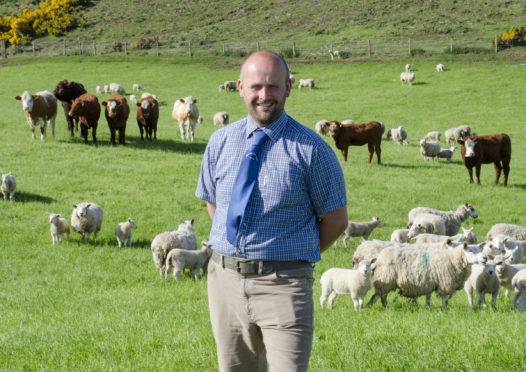 Farmers will be looking forward to a celebration at this year's Perth Show after one of the toughest years for decades.
They have faced a wet autumn, freezing winter, one of the latest springs on record and a summer drought.
And one farmer will be even busier than most as he prepares to head up the team responsible for the 156th Perth Show.
John Ritchie, of Montalt Farm at Forgandenny, has been named chairman of the Perthshire Agricultural Society for 2018/19 and with that comes responsibility for the event at South Inch on August 3 and 4.
The 36-year-old third generation farmer said: "It is a demanding task.
"Perth Show is a staple in everyone's calendar so I'm keen to ensure this August's event is a success.
"This is a farming show and it's important that we use it as a shop window for everything rural and agricultural.
"It's also the two days in the year that farmers are willing to take away from their work and meet up to socialise and perhaps do a bit of business before we turn our attention to harvest and stock sales."
As well as the staple livestock competitions and horsejumping, exhibitors from all over Scotland flock to sell their wares, with everything from crafts to artisan food and drink on offer.
Combined with Perthshire on a Plate, the food festival which runs alongside the show, John thinks it is the best opportunity to show people in the Fair City and beyond how farming affects them.
""Many people don't realise the vital link between agriculture and the food for their families," he said.
"Perth Show literally takes visitors through the process from the field to the plate, letting people see how we rear and grow, process and create, and finally refine livestock and crops to become the meal they all enjoy."