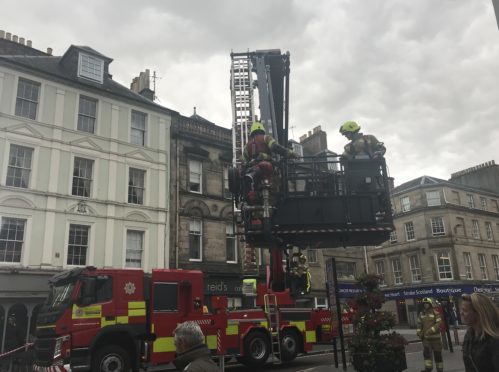 Firefighters used an aerial ladder to put out a chimney fire above a Perth restaurant.
The incident took place around 12.46pm when thick smoke poured from the chimney above Breizh in the city's High Street. The smoke drifted along to George Street.
It's understood it had been caused by a pizza oven.
Scottish Fire and Rescue Service taped off the front outdoor eating area of the restaurant while they inspected the chimney. However, diners were not evacuated during the operation.
A spokesperson for the fire service said: "A fire unit attended after a report that a pizza oven had led to a chimney fire above Breizh restaurant. The chimney fire was put out and a fire crew used the aerial platform ladder to check the chimney.
"A thermal imaging camera was also used."