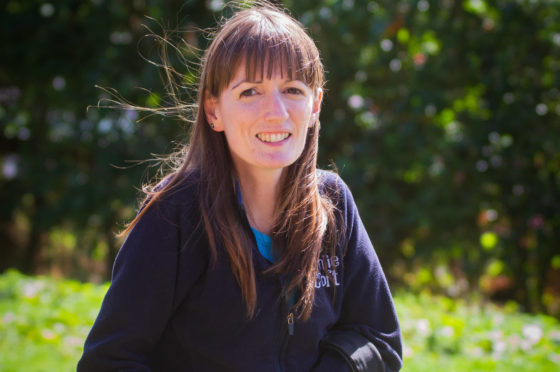 A Perthshire woman suffering from a debilitating muscle condition is to take part in a "virtually impossible" challenge for charity.
Amanda Lees from Comrie will attempt the Superhero Series Triathlon next weekend.
The event is designed specifically for challengers suffering with a disability.
After being born with congenital muscular dystrophy, Amanda has relied on crutches and wheelchairs for most of her life.
The slowly progressive condition affects all the muscles in her body.
She took a turn for the worse when she was 12 years old as she developed kyphosis scoliosis.
It caused her muscles to stop supporting her spine, with full spinal fusions required and metal rods inserted into her back.
Since then, Amanda has struggled with her mobility and normally simple everyday activities, including putting on clothes, making food and breathing.
Amanda has not let her conditions get in her way however, working full time at Comrie Croft – an eco friendly holiday destination – and performing as a drummer in the local Comrie Pipe Band.
A keen skier, she will take the biggest athletic challenge yet, as she embarks on a mammoth triathlon in Windsor next Saturday.
Having set out to raise £250 for charity Disability Snowsports UK (DSUK), Amanda has smashed her target by almost £1,000.
She said: "I am surprised by the support I have received so far. I am now sitting at around £1,250, which is amazing.
"My disability makes the challenge almost impossible. I get tired very easily and I don't think I have ever walked more than three kilometres in a day before.
"I feel a bit of pressure now from all the support but I know I can do it.
"For most of the running I will be using my chair and hopefully on the last stretch I can use my crutches.
"I will be using my paddle board for swimming as my back won't allow me to swim.
"It's my first time doing anything like this so I don't know what to expect."
Amanda trains twice a month at the Xscape indoor ski slope on the outskirts of Glasgow with DSUK.
She admits that there is no way she would have signed up for the challenge, after being forced into it by her ski instructor.
She added: "I probably would have looked at it and thought 'no way' because I can't swim or run.
"My instructor knows I am up for a challenge and she signed me up to it. She will be with me at the race but hopefully I don't need her to help me.
"The money I am raising is for DSUK as they help me with my skiing.
"I have set some targets for myself. I want to do the swim in under four minutes, the cycle in under 45 minutes and the run in under 15 minutes."
To donate, go to https://www.justgiving.com/fundraising/amanda-lees