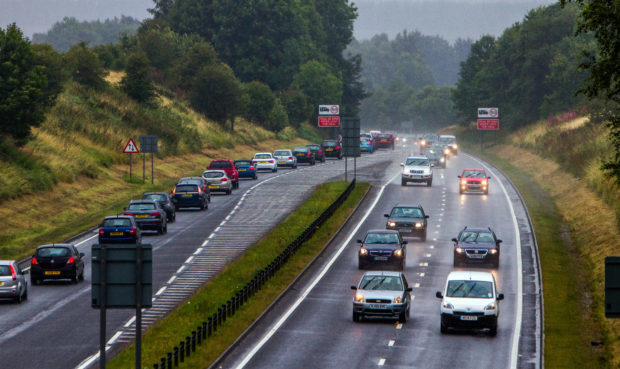 A preferred route for a dual carriageway on the A9 in Perthshire has been agreed in a landmark partnership between the community and Transport Scotland.
The location and design for the carriageway between Pass of Birnam and the Tay Crossing will be recommended to Scottish Government ministers, following a public vote after years of controversy.
The A9 Co-creative group was set up at the beginning of 2018 for the community and Transport Scotland to find a way to decide the best way to build the dual carriageway
A vote was held in June and this week the results have been published, showing "route A", along the current A9 with a tunnel passing Birnam and Little Dunkeld. This will include a left-in, left-out junction at the Hermitage with a grade-separated junction at Dalguise and another adjacent to the current access to Murthy Castle.
More than 700 people took part in the final vote, with the chosen route making up 45% of voters' first choices.
A statement by the A9 Co-creative said: "We would like to thank everyone involved in the A9 Co-Creative process for their hard work and the community for their ongoing enthusiasm and active participation.
"That we have reached this milestone is a testament to everyone's commitment to reaching a conclusion to the process.
"Since it started, the A9 Co-Creative has received more than 160 design ideas from the community and over 700 votes placed at the final stage.
Transport Scotland will now carry out more detailed design work before passing the information on to ministers. A final decision is expected by the end of the year.
The milestone was welcomed by Perthshire North MSP and deputy first minister John Swinney.
He said: "Given the task of dualling the A9 at Birnam is very challenging, I was delighted the Scottish Government accepted the need to secure a very high level of community participation through the establishment of the A9 Co-creative process.
"The process has generated a huge amount of public interest and activity and I had the privilege to attend a number of the events that were part of the programme.
"The level of participation in the decision-making process has been huge and a clear statement of community opinion has been obtained as a result. I look forward to these proposals receiving detailed and sympathetic consideration from ministers as they work to take forward the vital programme of dualling the A9."