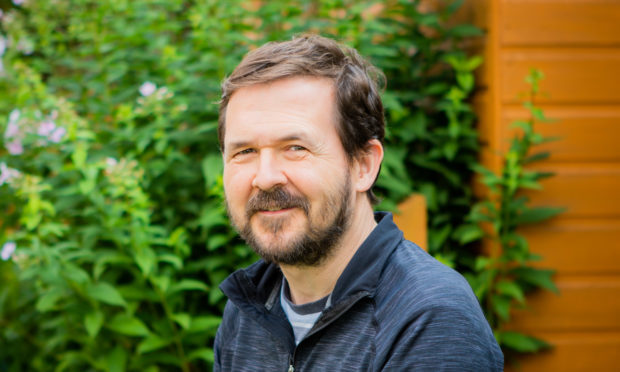 A new cancer drug has been approved for Scotland after transforming the life of a Perth man.
Andy McKay was diagnosed with advanced non-small-cell lung cancer (NSCLC) last August following the discovery of a brain tumour.
He was given early access to a new treatment, alectinib, as the only other drug available would not have had any effect on his brain tumour.
Since starting treatment in October, there has been a 70% reduction in the size of Mr McKay's cancerous tumours.
Having had difficulty moving, he is now able to fully walk again and has returned to work.
It was announced this week that alectinib has been officially approved by NHS Scotland and will be used to treat similar patients across the country.
Mr McKay said the drug will be a huge benefit to others.
He said: "The previous treatment available wouldn't have worked for me. There was always a chance that Alectinib wouldn't work but I had to go for it as I didn't have many options.
"It's been a life saver for me and will be for other people."
Mr McKay's oncologist Dr Brian Clark also welcomed the drug's approval.
He said: "ALK-positive NSCLC is a rare type of lung cancer that predominantly affects the younger, non-smoking population.
"In up to 50% of cases, the cancer has spread to the brain at the time of diagnosis.
"Alectinib has demonstrated improvements in delaying cancer growth in these patients and, importantly, has also shown significant improvements in preventing and delaying cancer spread into the brain.
"This is welcome news for patients and clinicians across Scotland, where lung is the most common cancer."
Around 5,000 people are diagnosed with lung cancer in Scotland every year, while 87% of lung cancer in the UK is identified as NSCLC.
Scotland has joined a host of countries across the world to authorise alectinib's use, including Canada, Switzerland, Australia, Japan and the US.
The drug passed criteria which identifies a medicine used in rare circumstances to treat around 100 people in Scotland.
The treatment is expected to stop working after a period of time, which will give Mr McKay more decisions to make.
He said: "I will just keep using it until it stops working. I take eight tablets every day and get scanned every eight weeks to check to see if there has been any progression.
"At the end of August I will get radiotherapy treatment for my lungs and continue taking Alectinib.
"My other option is to get surgery, however the tumour is right in the middle of my brain and it would involve taking a large chunk out which I am obviously not keen to do!"