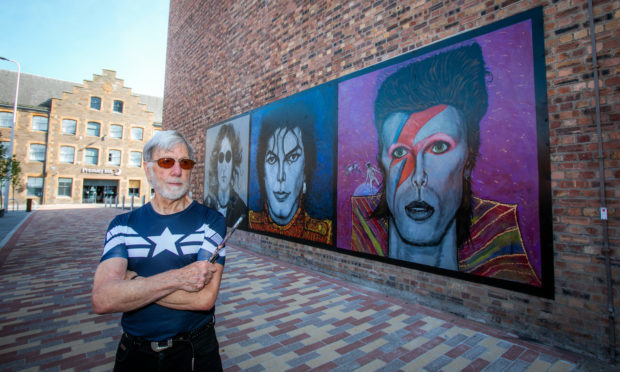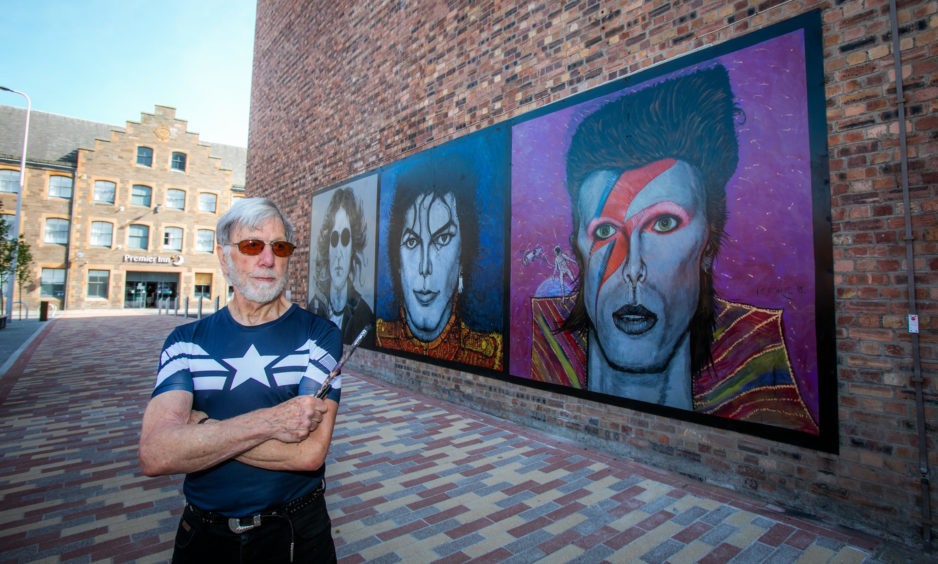 A defiant street artist who caused a stir in Perth with huge portraits of dead rock stars says he wants to install more famous faces in the city centre.
Ian Cuthbert Imrie has been ordered to remove his 10ft paintings of John Lennon, Michael Jackson and David Bowie.
The art was attached to a brick wall on Mill Street, without formal consent from the building's owner.
Earlier this month, The Courier revealed that Culture Perth and Kinross (CPK) wants to use the wall for the region's most ambitious art project.
Artists have been invited to submit designs for a £30,000 mural which could bring "international attention" to the Fair City.
Mr Imrie, who was given until the weekend to remove his artwork, said he now wants to install five more portraits on the same stretch of wall.
The 80-year-old is in talks with the local authority about his idea, which could involve paintings of Sean Connery and Marilyn Monroe.
Mr Imrie said: "The response to these paintings from the general public and on social media has been overwhelmingly positive, and I think that having a line of portraits would look fantastic.
"Once completed it would stretch about 90ft. We could install each portrait one at a time, so the public would be left guessing who will be next."
He said: "It would also save people a bit of money. I estimate it would only take about £15,000 to complete, rather than £30,000."
Mr Imrie is expected to submit his proposal as part of the CPK contest.
All submissions will be judged by an expert panel and interviews with artists will be carried out in October.
If all goes to plan, the work could be in place by the end of March next year.
A Perth and Kinross Council spokeswoman said: "We met with Mr Imrie last week to discuss public art in Perth city centre and his work in that context.
"We have advised that it remains at his discretion to apply retrospectively for planning consent as well as gaining permission from those with an interest in the property, as the artwork could be removed either by the owners/tenant or ourselves given the lack of permissions in place."
She added: "We also stressed that the Council's planning and regulatory role is purely about ensuring any impacts on a property or the surrounding area were considered in the public interest."