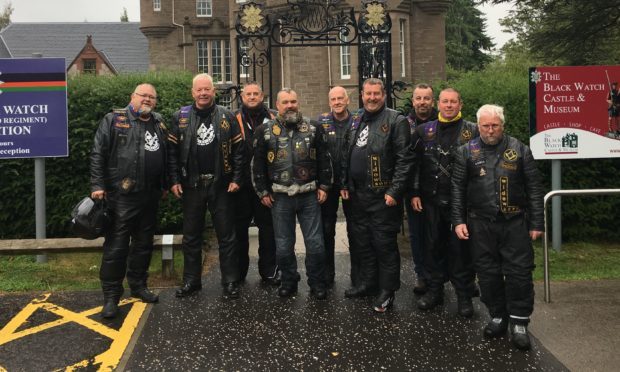 Freemason bikers laid a wreath at the Black Watch regimental headquarters at Perth as part of a Scottish tour to raise £60,000 for disabled veterans.
Motorbike fans from Widows Sons Scotland – the Grand Lodge of Scotland's motorcycle association – took part in the wreath-laying ceremony at Balhousie Castle during a tour of 31 war memorials across Scotland in support of Poppyscotland.
The eight-weekend-long trip also marks the forthcoming centenary of the end of the First World War.
Peter McCallum-Laing, 56, Widows Sons member and a fourth generation Freemason, recently left the armed forces after serving for 38 years.
He said he was keen to take part in the trip as his grandfather served in the Fife and Forfar Yeomanry during the First World War and was wounded at the Battle of Mons.
"We knew he must have been retreating because he was shot in the backside," he said.
"He rarely talked about it, but he showed me his medals. I was always his little soldier. He was one of the lucky ones, of course."
Mr McCallum-Laing, from Tayport, said the Widows Sons were similar to other biker groups.
"It's a fallacy to think that Freemasonry is all about secrecy. You don't know the ins and outs of it until you join, but it's all out there in the holy books," he said.
"We're just Freemasons who love bikes and getting out and doing things for charity."
The tour has stopped at the Black Watch Memorial on the A90 outside Dundee and the Queen Victoria School in Dunblane as it winds its way around Scotland. The group plans to complete its fund-raising mission in Dumbarton on September 29.
Gordon Michie, head of fundraising at Poppyscotland, said the money will be used to help disabled veterans find a job or make much-needed home improvements.
He said: "It will fund a specialised employment service so that disabled veterans can get support to find suitable, sustainable employment, or allow us to undertake major home adaptations, enabling a seriously disabled veteran to remain in the comfort and safety of their own home.
"I'd like to thank the Widows Sons for their wonderful work – it is greatly appreciated."