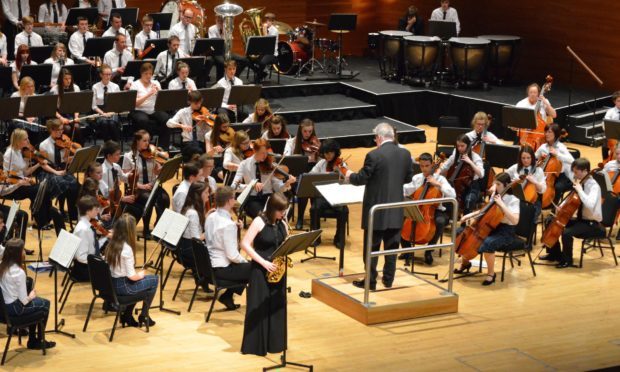 Music fee campaigners have confronted council chiefs over a planned price hike which they fear could turn Perth into a "musical vacuum".
Perth Youth Orchestra is leading the fight against a proposed 60% rise in tuition costs over the next three years.
The group fears music instrument lessons could become too expensive for most young people.
On Wednesday, members of the orchestra delivered a petition signed by more than 1,000 people, calling for the increase to be scrapped.
Among the campaigners who attended the demonstration at Perth and Kinross Council's High Street HQ was the group's original leader Alister Allen. He was joined by current leader Nicholas Baughan.
Mr Allen said: "The increase they are talking about is absolutely ridiculous.
"Music instrumental tuition should be the right of every pupil. The service is really a jewel in the crown, and this council looks set to destroy all the good work that has been done."
The first 20% rise comes into affect this month. Mr Allen said: "We already know of some families who are stopping their lessons because of this. We feel it's only going to get worse."
The petition, which is addressed to the council's lifelong learning convener, calls on the local authority to ensure that any increases are not above the rate of inflation.
The price hike has also been attacked by Leila Trainer, whose father Louis Barnett was a co-founder of the orchestra in 1962.
She said the planned price hike "will plunge the music scene in Perth, for its budding young musicians, back into the limbo of the late 1940s, when opportunities for young people to learn an instrument were very limited."
A council spokeswoman said: "Additional funding to support this service was provided in the local authority's budget on a non-recurring basis.
"This money is being used to help extend the reach of the service further than at present. Any savings or changes to charges for services are considered by elected members as part of the statutory budget setting process."
The spokeswoman added: "The decision to increase the fees for the instrumental music service, after a five-year period where there were no increases, was taken at Perth and Kinross Council's full council meeting in February.
"The local authority has already met with parent representatives to discuss this matter."