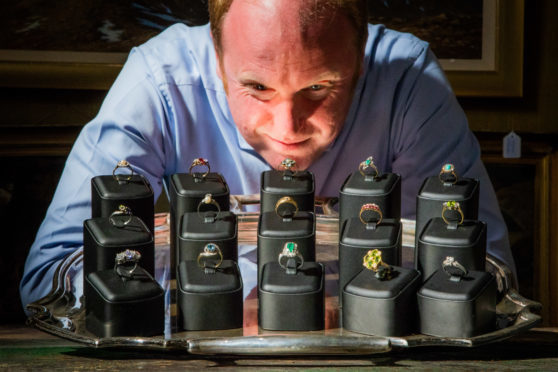 Jewellery worth up to £30,000 has been discovered 15 years after it went missing.
The collection belonged to a grandmother but when she died relatives could not find any sign of it.
More than a decade after her death, the jewellery has been discovered in an old shoebox.
Perth-based auctioneer Nick Burns is selling the items on behalf of the family.
"The family assumed all of the jewellery had been sold and she had spent the money," he said.
"After all these years it turned up in a shoebox which was right at the bottom of a stack of boxes.
"They were shocked because they presumed it lost a long time ago. It was quite bittersweet."
The collection is a mix of heavy gold, bracelets, earrings and rings set with gems including diamonds, emeralds, sapphires, rubies, aquamarine and pearls.
Mr Burns expects the items to sell for between £20,000 and £30,000 when they go on sale at Linsday Burns auction house next week.
Bidders from all over the world are expected to make offers online.
"Most of it looks like the style of the Edwardian-era through to the late 19th and early 20th century," he added.
"Some of the higher value rings are evocative of the 20s and 30s art deco era where women would have worn the jewellery to cocktail parties.
"It will all sell quickly, there are some lovely pieces and we have already had interest from all over the world."
This discovery by the family, who live in Fife, comes after Mr Burns found an eggbox full of what owners thought was "tat", at the start of the year, which turned out to be worth £25,000.
Last year he found a bottle of rum "languishing" in a garage which sold for £8,500, while a Persian carpet folded up in a Perthshire shed fetched £10,500.
Mr Burns said: "It's amazing how much stuff is destined for the charity shop or the bin and turns out to be worth tens of thousands."
The King Street auction house's sale will be held on Tuesday and Wednesday.