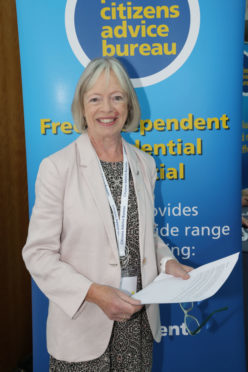 Shrinking budgets and rising workloads are putting the future of Perth Citizens Advice Bureau (CAB) under threat.
Bosses say the charity is seeing more people than ever before due to welfare reform — but funding cuts have left it facing grave financial trouble.
If the current situation continues they warn the service, which helped more than 4,000 people last year, will not survive.
Vice chairwoman Ann MacIntosh told the group's annual general meeting in Perth Concert Hall: "This last year has been very challenging.
"Radical changes to the social security system have led to an increased level of requests for advice, which has in turn led to increased workload for our volunteers and staff," she said.
"In addition to this there has been worrying uncertainty about our own financial future.
"We simply can't continue to operate as an efficient, viable entity unless we know our funding streams in advance.
"In order to retain our experiences and professional team and continue to support vulnerable clients we need to know that our long-term future is secure."
In the last year, 38% of advice given by the branch, which covers all of Perth and Kinross, related to benefits, while another 27% was about debt.
The challenges are expected to continue this year, as universal credit is now fully rolled out across the region.
Perth CAB chief executive Sandy Watts is calling for longer-term budgets to allow the team to plan ahead.
All of the CAB's core services and premises are paid for by Perth and Kinross Council.
"One of the biggest problems we face is that most of our funding is year-on-year so at the end of the financial year we have no idea what we're going to be able to do in the coming year," she said.
"We get near the end of the financial year and do not know how much money we will have in three weeks' time, which can make continuity very difficult.
"The council is aware of this but it is facing its own difficulties.
"We were very pleased not to have a funding cut as so many other CABs did, but even a freeze is a cut in real terms."
Concerns have also been raised about the impact of Brexit, particularly if European laws on employment and equalities are changed.
Sandy added: "The worry is that if employment law changes it may lead to job losses or people will have fewer rights which will damage the local economy and increase the number of people coming to us for advice.
"I'm not trying to scaremonger, the major problem for us at the moment is that we don't know."
Perth CAB helped local people gain a collective £1.2 million more in benefits in the last year alone. It is mostly staffed by volunteers.
Anybody interested in getting involved is asked to contact the Perth office on 01738 450580.