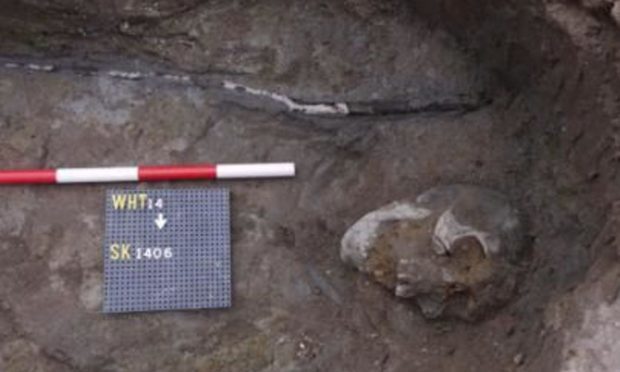 The bodies of around 30 men and women have been unearthed from a medieval Perth friary, where they were buried with mysterious wooden staves.
The find – made as around 300 graves were removed from Perth's Carmelite Friary church at Whitefriars to make way for a car park and shops – has puzzled archaeologists, who are now planning further research to discover the meaning behind the bizarre burial ritual.
Derek Hall, 60, an independent archaeology consultant, said it was one of the most unusual finds in his 42-year career.
"It could be that the staves were placed there because they were pilgrims," he said.
"But then where were they on a pilgrimage to? So I think that is unlikely.
"It is possible that it might be a reference to something in the bible, my staff and my rod comfort me, for example. But to be honest it is quite difficult to come up with an easy answer to this."
The staves run the length of a body, around five foot seven inches,  and have a circumference of around one and half inches.
Mr Hall said he was following up on reports of similar discoveries in Scandinavia, but nothing like it had been unearthed in Scotland.
"Things like this may have existed on sites elsewhere but they have not survived. Preservation conditions on this site are very good with timber and leather finds still present. But from the research I have done so far I can't find another Scottish example," he added.
Mr Hall will mark Scottish Archaeology Month with a talk about the excavations on Friday September 28 at Perth Museum and Art Gallery.
He has been involved with the Whitefriars site since 1982.
Owners Manorgate took over the plot at the corner of Whitefriars Road and Riggs Road in 2006, unaware of its historic significance.
The company's original plan to develop the land stalled after an archaeological dig uncovered the human remains. It was established the land was once the Carmelite Friary of Tullilum, founded in 1262.
All 302 burials have now been removed to Aberdeen University for further study, Mr Hall added.
He said he was now raising around £3,000 to carry out  carbon dating on the contents of the graves to find out their real age, and hopefully glean more clues as to the meaning behind the staves.
"Perth is quite unusual in medieval Scotland in that it had three different types of Friars – black, white, grey and a Carthusian monastery. That indicates what a cosmopolitan place Perth was in medieval times and how much money was there, as Friars came to places where they could make a living," he said.
"The Friary at Whitefriars we know about dates from the 13th Century, but the graves with the wooden staves may provide evidence that there was a church on the site even earlier than this."
Sophie Nicol, historic environment manager for Perth and Kinross Heritage Trust, said recent excavations at Whitefriars had provided a fascinating insight into medieval Perth.
In particular, she highlighted the preservation of greenwood staffs and rods as seen in several of the burials, along with survival of other organic remains.
"Once the results have been assessed by specialists and published this site will give exciting new evidence of Perth's history at this time," she said.