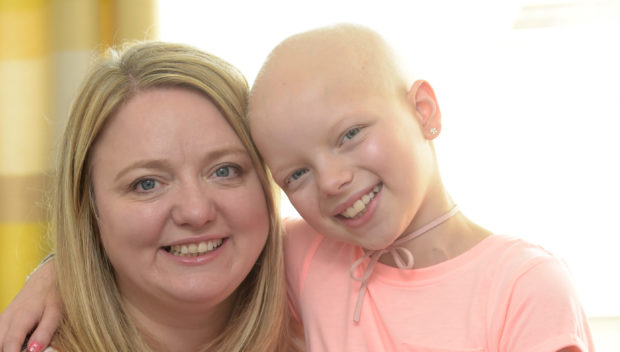 Donations have been flooding in to help a Perth youngster enjoy the holiday of a lifetime after her cancer returned just weeks after being given the all-clear.
More than £7,000 has already been raised for Lily Douglas, who had battled stage-four Ewing's Sarcoma until scans at the start of September revealing her to be cancer free.
Now, less than a month later, the cancer has returned and is more aggressive than ever.
The 10-year-old shrugged off the bad news by taking part in the UDO street dance world qualifiers on Sunday, at the Bell's Sports Centre in Perth.
She qualified for next year's world championships in the solo and crew categories, prompting hundreds of messages of congratulations on social media.
Lily's mum, Jane Douglas, has pledged to stick with plans for a holiday to Florida in two weeks' time as Lily wants to "make memories" on her 11th birthday.
She will start a new chemotherapy treatment the day she returns from the USA.
An online fundraiser was set up on Friday to allow Lily to have the best possible time and already almost 500 people have donated, with a rising total of £6,555.
Choreographer Fiona Quilietti, who met Lily through her passion for dancing, set up the GoFundMe page.
She said: "Lily is a very special little girl who lights up the room with her beaming smile as well as being a very talented and beautiful dancer.
"I have lost members of my own family to this cruel disease and felt this is the least I could to help little Lilly and Jane through this very difficult time.
"All money from the page is transferred direct to Lilly's own bank account so she can have the holiday of a lifetime and Jane does not have to worry about finances – if Lilly wants to do something, go somewhere or buy anything she should have the means to do so and just have fun.
"Family members and friends have been so generous, I am totally overwhelmed and every donation is going towards Making Lily's dream come true."
Lily, a pupil at St John's RC Primary School, has already gone through 14 rounds of chemotherapy, nine operations, proton beam therapy in the US as well as fighting off seven infections.
She has continued to follow her passion for dance, despite damage to her leg muscles and has won 90 trophies and 200 medals in ballet, tap, street and modern dance.
In July, she took centre stage as she performed a poignant ballet sequence at the Cancer Research UK Kids and Teens Star Awards party in London.
Local businesses have also come together to support Lily, setting up a bank account for donations to avoid processing fees taken by some fundraising websites.
Jimmy Turriff and Derek Sweeney from A&B Taxis, Lee Walker from Lee Walker Fencing and Peter Chan of China China have set up and will oversee the account, starting with a £200 donation.
Peter said: "We wanted to do something locally to send Lily and Jane first class on their holiday then when Lily comes back refreshed we will stand together and fight.
"I want them both to get the very best because if there are two people in the world who deserve it, it's them."
Donations can be made at gofundme.com/little-lilly-holiday-of-a-lifetime.