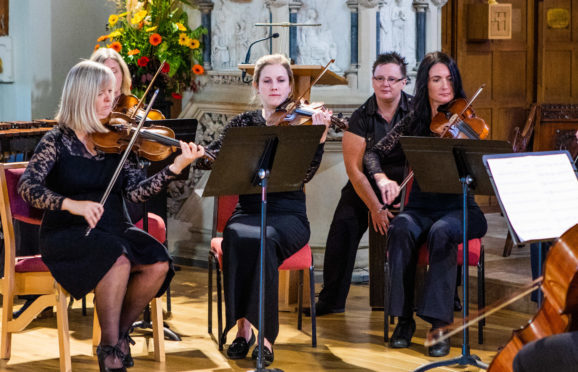 Perth and Kinross residents have joined opponents of a controversial decision to increase the cost of music tuition, with one claiming it is "robbing the poor to give to the rich".
The council agreed the 60% increase over the next three years at their budget meeting earlier this year, with the first 20% rise coming into force in August.
However, the decision has seen a huge backlash.
The Perth and Kinross Music Foundation (PKMF) has claimed that the price hike could make Perth a "musical vacuum" and more than 1,000 people have signed a petition asking the council for a rethink on the matter.
They have now been joined by residents who have expressed their anger over the move.
One resident, who wished to remain anonymous and described himself as a "former educationalist," said he was "at a loss" to understand the rationale behind the council's strategy.
"This will make instrumental tuition only affordable to the most affluent families," he said.
"The council has already increased charges for this year by 20%, but even more ludicrous is its plan to increase the prices by 20% again next year, followed by another 20% in 2020. This will make the tuition cost for young musicians in Perth and Kinross in excess of £1,000 – by far the most expensive in Scotland."
And he feels pupils in Perth and Kinross are being hit unnecessarily.
"In Dundee, pupils receive their instrumental music tuition totally free," he added.
"Are we really so far behind our neighbouring local authorities in providing for our future generations of young people, or will Perth and Kinross Council just keep on robbing the poor to give to the rich?"
George Reid, of Bridge of Earn, also criticised the decision, branding it "ill advised."
"Not only will this move result in a massive negative impact on all pupil attainment, it will shamefully have most effect on pupils from less wealthy backgrounds," he commented.
"In other words, the less well-off pupils will be more disadvantaged."
He continued: "I recognise that there are real financial challenges to local authorities but pupils' attainment should not be based on whether you can afford to pay or not. This is certainly not the case in many other councils.
"Anyone reading last year's Improvement Service Report commissioned by the Scottish Government, will be able to see how many other local authorities are investing much more in the future of young pupils through music."
Andrew Mitchell, spokesman for the Perth and Kinross Music Foundation (PKMF), had previously said: "Perhaps more concerning for the future is the reduction we are seeing in applications from new families."
And Leila Trainer, whose father Louis Barnett was co-founder of the Perth Youth Orchestra in 1962, also slammed the move. She said the price hike will plunge the Perth music scene for budding musicians back into the "limbo" of the late 1940s.
A spokesperson for Perth and Kinross Council said: "Additional funding to support this service was provided in the local authority's budget on a non-recurring basis.
"This money is being used to help extend the reach of the service further than at present. Any savings or changes to charges for services are considered by elected members as part of the statutory budget setting process."
Meanwhile, a concert by the Perth and Kinross' Instrumental Music Service, which took place in St John's Episcopal Church, Perth, at the weekend, raised £800 for the PKMF.