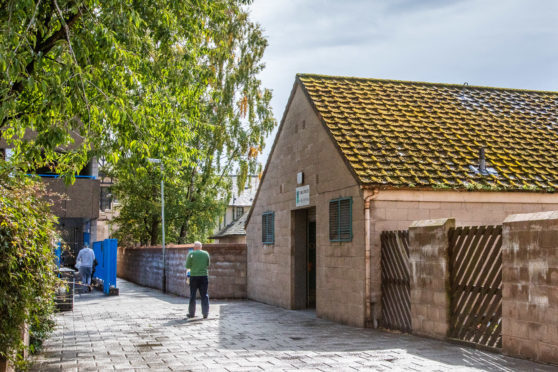 A business leader has hit back at Perth and Kinross Council after public toilets were closed across Perthshire over the weekend.
Four blocks – two in Perth, one in Auchterarder and another in Crieff – were shut for the winter on Sunday as part of a £150,000 cost-cutting measure.
The facilities are expected to re-open in April.
The closures were met with particular anger in Crieff, with locals rallying to sign a petition to save the toilets.
Doubts over the future of Perthshire public toilets two weeks before planned closure
Crieff Business Improvement District (BID) also protested that the decision went against a service agreement with the council, which guarantees staffed toilets will be in operation in the town throughout the calendar year.
At the time, leader of the council, Conservative, Murray Lyle, said he was not aware of the agreement and would seek clarification from officers before a decision would be made.
However, the toilets have since closed, and four businesses in Auchterarder and Crieff have pledged to open their doors as part of a "comfort scheme", which offers free public access to lavatories.
Graham Donaldson, chairman of Crieff BID, said the group would continue to fight for a u-turn.
He said: "We will continue to negotiate with Perth and Kinross Council, with the ultimate aim of opening the toilets as soon as possible.
"We do have a service agreement in place with them and by undertaking this action they are breaching the terms of this contract.
"We believe that the public toilets are an essential facility for the town for visitors and locals alike.
"We appreciate the willingness of local businesses to open their facilities to the general public.
"We are, however, concerned about their ability to meet the needs of disabled users and those requiring child changing facilities."
More than 200 people across Perthshire signed the petition calling on the council to save the public toilets.
SNP MSP Roseanna Cunningham was one of the signatories and she said: "Closing public toilets outside the summer months sends out a message that Crieff is not interested in welcoming visitors in autumn and winter, whereas nothing could be further from the truth.
"We should be constantly looking at extending the tourist season, not restricting it.
"It is a particularly bizarre decision to shut the public toilets in Crieff from the start of October when we have the Drovers Tryst beginning on Saturday.
"The comfort scheme is better that nothing and it needs to be properly publicised but it is a halfway house and I want the council to reverse their decision."
The council was approached for comment but would add nothing to a statement released on Friday announcing the creation of the comfort scheme.