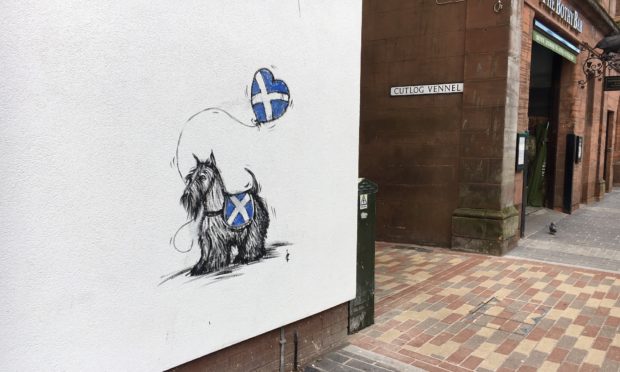 Perth's octogenarian answer to street artist Banksy has struck again.
The image of a Scottish terrier holding a heart-shaped saltire balloon appeared on the back of the Perth Theatre building on Mill Street, next to the Cutlog Vennel, on Sunday morning.
Artist Ian Cuthbert Imrie, 80 – whose 10ft tall paintings of musicians David Bowie, John Lennon and Michael Jackson have become popular with visitors to the Fair City despite official orders to remove them – claimed responsibility for the new piece.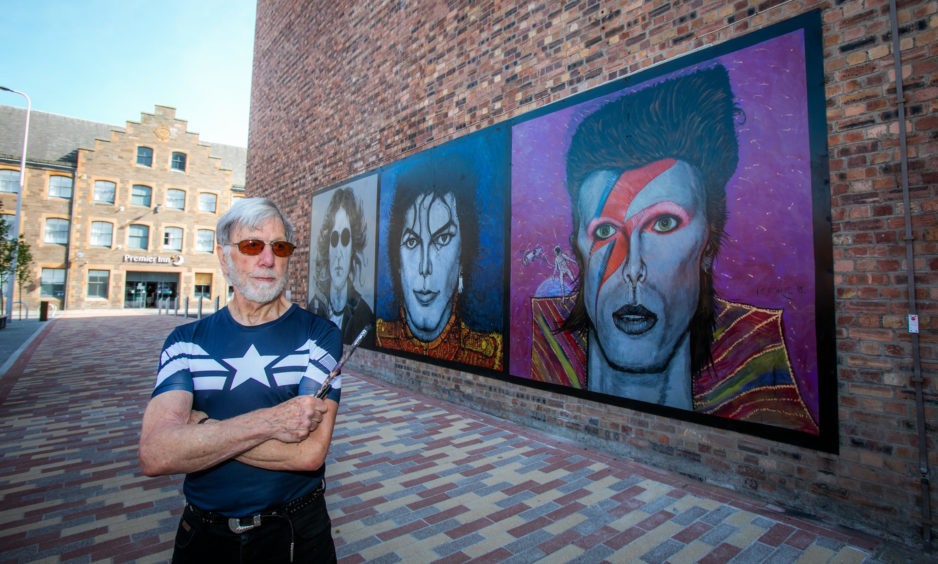 "I chose 7.30am on a Sunday morning when it was nice and quiet. I wanted to do something that was cheerful and to brighten the place up," he said.
"I know you're not supposed to do it, of course. You're supposed to get planning permission, but you can't sit around a table and decide to put up a piece of art. It goes against the principle of the thing."
Street artist Banksy's famous Girl With Balloon – which Imrie's new piece resembles – made art history earlier this month when it sold for a record £1 million before shredding itself in front of stunned onlookers. The sale went through with the shredded parts of the piece now known as Love Is In The Bin.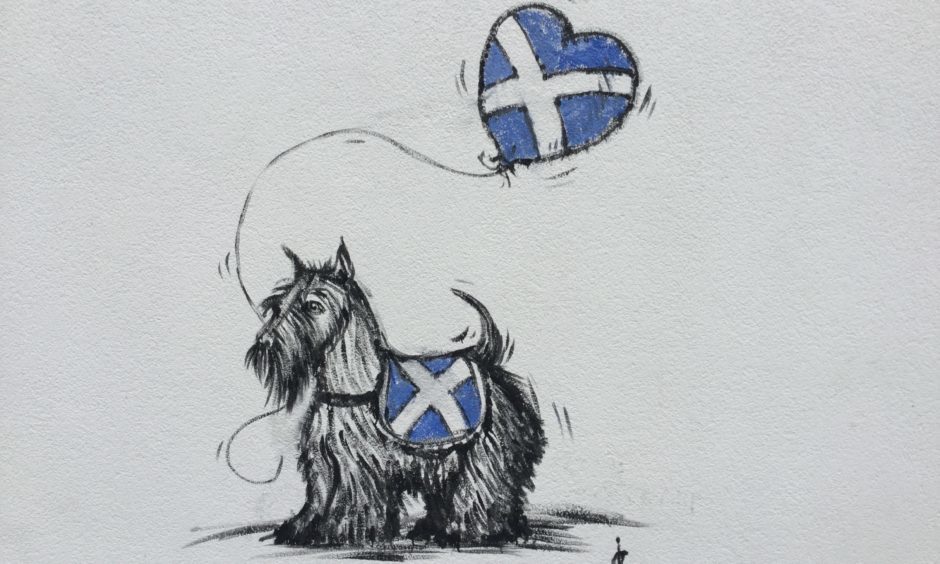 Mr Imrie said his work, which took him about an hour, used a different method to the notorious artist.
"Banksy works with stencils and spray paints. Though I don't think it's one person, but a collective. I did my painting direct. They will probably call it graffiti and wipe it off," he said.
"Perth needs a wake-up call. Other cities, such as Dundee, are miles ahead. It is so staid. It is not the Perth I used to know as a boy."
There is already a continuing controversy around Imrie's earlier work, also to be found on Mill Street.  The council and building owners have ordered the artist to remove his portraits of the dead rock stars or pay for a planning application.
He said he wasn't worried about being arrested for his latest piece. "They can do that if they like. I'm 80 years old. I couldn't care less," he said.
Graeme Farrer, 46, auditor, passed by the new piece on Sunday morning.
He said: "I quite like it, but I don't think it is an appropriate place for it on the back of the brand new theatre building."
Nobody from Perth Theatre could be reached for comment before going to press.