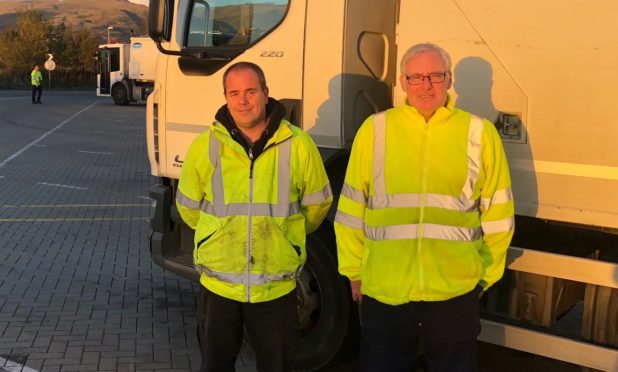 A pair of council workers are being hailed as heroes for freeing a driver from his overturned car, moments after it had crashed in Perthshire.
Waste workers Stevie Snaddon and Ally Paterson from Stirling Council were first on the scene when a car had overturned and came off the A84.
With the male driver still inside, the pair called the emergency services and directed traffic around the accident scene.
Both reacted quickly to remove parts of the car to free the driver and stayed with him until the ambulance services arrived.
Ally said he knew how to react after previously being involved in a crash on the M80 which left him trapped inside his car alongside his wife.
He said: "You're just terrified something is going to hit you, so we knew we had to get him out.
"As we drove up we could see that the wheels were still spinning, so it must have just happened.
"Obviously, you are wondering what you are going to see, but as I approached the car I could see there was someone in there trapped.
"His arm was moving and he was able to indicate that he was ok and there was no one else in the car."
Stevie added: "We saw the back window was smashed.
"We took the parcel shelf out, took out everything that was in the boot and the driver was able to crawl along the roof of the car and come back out."
It is not the first time the pair have stepped in to help those in need.
As they are often first on rural roads in the morning, they have helped free sheep and other animals stuck in fences or wandering on the roads.
Their quick thinking and appropriate action on October 21 has seen the pair come in for praise from council leaders.
Carol Beattie, chief executive officer at Stirling Council, said: "We're very proud of the selfless action shown by Ally and Stevie.
"They represent the very best of Stirling Council staff. Everyday heroes who go above and beyond for us as a council, our people and our communities."
SNP councillor for Stirling Council, Jim Thomson, said: "I'd like to thank Ally and Stevie for their public-spirited actions.
"It's a great example of Stirling Council staff stepping up to help in any way they can."