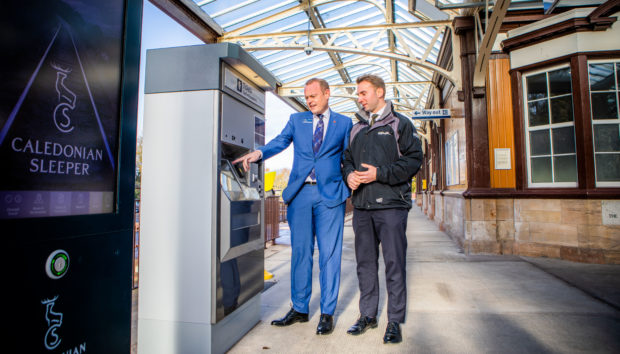 Auchterarder rail users have welcomed the addition of a new ticket vending machine at Gleneagles railway station.
It means residents will not have to travel to Perth to pick up pre-paid tickets and cheaper tickets can now be bought in advance and picked up from the station.
It is hoped the move will also help to boost the appeal of Gleneagles Hotel with tourists and sports fans.
ScotRail agreed to introduce the machine after Conservative MP for Ochil and South Perthshire, Luke Graham, raised an online petition in May following complaints from local people.
It was due to be in place by the end of September, with its installation weeks behind schedule.
Despite this, its formal opening has been a welcome boost to regular Gleneagles train users.
Commuter Fiona Whyte described the issues the lack of a ticket machine caused passengers.
She said: "I have travelled from Gleneagles almost daily for the last seven years.
"I have a disabled railcard and I would have to get tickets from the conductor on the train.
"Sometimes they wouldn't come round and I would have to wait in huge queues at Glasgow to buy a ticket.
"I could never buy a group of tickets, I had to buy separate ones each day.
She added: "I celebrated my birthday by getting my first ticket out of the machine.
"I am really pleased we have finally got a ticket machine.
"It should have been put in when the station was upgraded for the 2014 Ryder Cup but it's better late than never.
"Gleneagles station has finally landed in the 21st century."
With the Solheim Cup – one of the biggest golf tournaments for women – arriving at Gleneagles golf course next year, the expected 30,000 spectators will now benefit from the upgraded system.
Luke Graham had pushed for the machine to be installed for months and he said he is delighted it is finally ready.
"I am pleased to have been able to lobby successful for this installation," he said.
"Travellers and young people will now be able to get their advanced, discounted tickets from Gleneagles rather than having to go to Perth or Stirling to get tickets."
A ScotRail spokesperson said: "The new ticket machine will make it even easier for our customers to purchase and collect tickets.
"Customers will continue to be able to take advantage of our wide range of great value advance, off peak, and anytime fares."