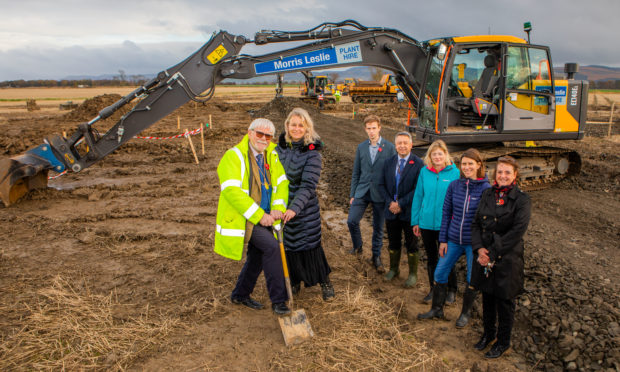 Work has started on building a new temporary GP surgery in the Carse of Gowrie, after patients had been forced to receive treatment in a portable building.
The turf was officially cut on a new site on Station Road in Errol on Wednesday to mark the beginning of the construction, hoped to be completed by February.
A planning application was lodged in April for the stop-gap surgery that received no negative public responses.
It was eventually passed in July for the new GP building to be created on land to the south-west of Errol Airfield.
With the first piece of turf dug, Labour councillor Alasdair Bailey said work will now turn to finding patients a permanent home.
No date has been confirmed for the consultation period to find a new surgery, with work expected in 2019.
He said: "I am really happy to see work in progress on the temporary GP surgery.
"However, this is just the start of the path towards getting Carse of Gowrie the purpose-built healthcare facility that is deserves.
"I will continue to push for all options to be explored for the location of the permanent build.
"I look forward to working with colleagues, the NHS and the practice GPs on the consultation about a permanent facility in 2019."
The construction comes after Carse Medical Group were forced out of its main premises in St Madoes, with the Perth and Kinross Health and Social Care Partnership deeming the surgery no longer fit-for-purpose.
After moving out in April, doctors and patients used an emergency portable building in the area to continue their service.
The construction was the second proposal to seek a planning application after the first on the edge of Errol was ditched in March due to concerns about its proximity to a busy road.
Talks did take place between locals about buying the old medical group building.
At the time Conservative councillor Angus Forbes said it would be an impractical decision as "no one in Errol would be prepared the take on the responsibility".
Speaking at the start of the construction, Mr Forbes added: "I am absolutely delighted.
"This has been going on long before I was elected. I almost can't believe that we have got here.
"This service will be far better than previous, but we need to remember that this is just a temporary measure.
"The HNS has promised that once the doors are open to this temporary buidling, the consultation period will start and that is something that I will fight for.
"There is no exact date but I hope by spring we will have some movement."
SNP councillor Beth Pover said: "Its a very huge step forward to get health care in Carse of Gowrie.
"But we need to remember it's temporary and we will be working towards more permanent structures in the future."