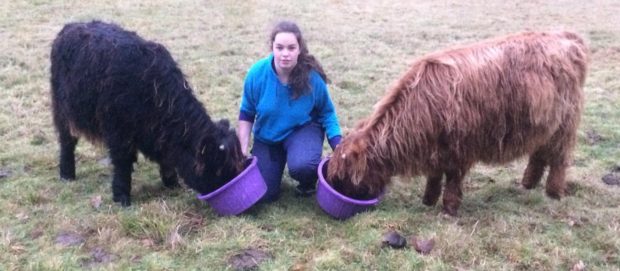 A pupil at Pitlochry High School has written a heartfelt plea in an attempt to keep her school open.
14-year-old Fione Cruikshank published a huge detailed document to her school and Perth and Kinross Council urging them to listen.
Pitlochry High is being considered for closure as part of a wide-ranging estates review.
Education chiefs are considering five options for the school, including closing the secondary section and moving pupils to Breadalbane Academy.
The council has announced a series of drop-in sessions to give the public their chance to have their say on proposals.
Fione is concerned their voice will not be heard and pinpointed eight specific reasons for keeping her school open.
The agricultural fanatic, said her school have "made her dreams come true" and she wants to "tell the world" so her little sister will get the chance to attend.
She wrote: "Perth and Kinross Council are trying to close my amazing secondary school, that has given me so many opportunities to contribute to my local community and explore the wildlife of Scotland.
"I would love my little sister and other younger local children to have the same opportunities as I've had at Pitlochry High School.
"The council have just started to run drop in sessions to consult the local community about the school's future.
"I'm worried they won't listen to us, so I want to tell the world what a great school we have so that they won't close it.
"The opportunities provided to me by my school and teachers have made my dreams come true.
"I have just got my first two highland heifer calves and I have started my agricultural career.
"This have been made possible because of my teachers at Pitlochry High School."
The opportunities that Fione listed include: David Eckersley Legacy Fund, The Struan Trust bursary, Imbewu programme, rotary chef courses, John Muir Award, Duke of Edinburgh, Youth Philanthropy Initiative Scotland and the school's hosting of community cafes.
Each detail was accompanied by a description as to how it has benefited her – including The Struan Trust, which helped her purchase her calves.
The council's school review team is in the second phase of discussions regarding Pitlochry's future.
Last week, parents backed a radical plan to close council building Pullar House in Perth and move staff into vacant offices on High Street, with cash going towards school improvements. A decision is yet to be made.
Conservative councillor Callum Purves said: "I very much enjoyed reading about some of the many and varied opportunities that Fione and other pupils have at Pitlochry High School.
"These are exactly the type of educational experiences that last with pupils for a lifetime.
"The council administration is fundamentally committed to seeing the educational provision in Highland Perthshire enhanced – not diminished.
"The ongoing community drop-in sessions are a great opportunity for parents, pupils and the wider community to have a conversation with us about how best we can achieve this objective.
"I would encourage those who have not already done so to come along to one of the forthcoming sessions."