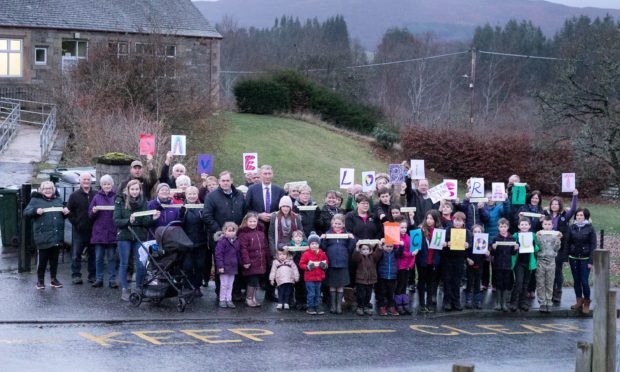 Parents, pupils and politicians have mounted a protest against the potential closure of their local school.
The future of rural Logierait Primary is being weighed up by Perth and Kinross Council as part of a review of ageing and under-capacity schools.
The shake-up has already led to the recommended shutdown of five primaries.
Three options are on the table for Logierait: closure, a review of the catchment zone or "do nothing". The school is at 32% capacity with 16 pupils.
Children at the after-school club painted banners and posters for their demonstration.
Mum-of-two Tracy Reynolds, a member of the parent council, said: "It's worrying. We know that Logierait is a great school.
"Sometimes people look at small, rural schools and think that the number of children currently attending is the only thing that matters.
---
---
"That's not the case. Our school is at the centre of the community, and it matters to people regardless of whether they currently have children at the school."
Another parent Carrie Kemp added: "We moved back to this area for the two excellent local schools, Logierait Primary and Pitlochry High, and it is incredibly upsetting for not just one but both of them to be under threat of closure.
"We need better rural provision, not worse. The council needs to listen to the strong views locally to protect and improve rural schooling, not take it away."
Independent councillor Xander McDade called for the school to be retained and expanded, with better nursery provision. He said: "The constant threat to rural services is an issue that affects everyone in Highland Perthshire, and suggesting closure as an alternative for Logierait is another example of this.
"Closure should not be one of the options under consideration. Logierait is an excellent primary school."
The campaign has received backing from SNP MP Pete Wishart and MSP John Swinney.
"It is a pretty sorry state of affairs when pupils are so worried about the future of their school that they are making placards at their after-school club," said Mr Wishart.
Councillor Mike Williamson added: "It is important that Perth and Kinross Council listen to the concerns being raised and understand that any closure would have a disproportionate impact on our rural communities."
Conservative councillor John Duff encouraged parents to attend a consultation event at Mid-Atholl Hall on Tuesday, November 27, from 3.30pm to 7.30pm. He said: "I am aware that there is a shortage of nursery provision and after-school care for the area and the inclusion of these facilities as an option at Logierait Primary School would significantly improve its future viability.
"The school has the space and, as has been evidenced elsewhere in the area, having a nursery and wrap-around school care is likely to result in a steady increase in pupils attending the school."
A council spokeswoman said: "No decisions have been taken on the future of any of the schools involved in the second phase of the School Estate Transformation project.
"The opportunity for the wider communities of each school to engage with the Council through informal community drop-in sessions is ongoing at present, with the session for Logierait Primary School (which will include consideration of Pitlochry High School) upcoming on Tuesday November 27, between 3.30pm and 7.30pm at the Mid-Atholl Hall in Ballinluig, and a further session regarding Pitlochry High School at Blair Atholl Village Hall on Thursday, December 6, from 3.30pm and 7.30pm."
She said: "These sessions allow for communities to provide feedback on options being considered for each school and suggest options which may not have been considered. Feedback gathered during these sessions will be taken into consideration before decisions are made on each school."