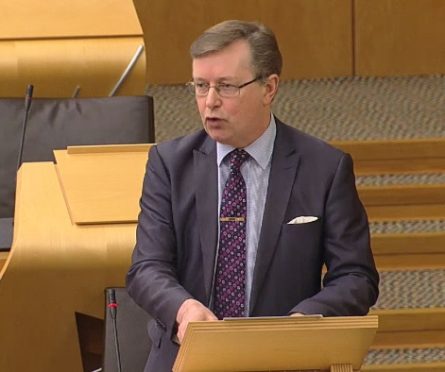 A Perthshire politician has accused the Scottish Government of "mismanagement" after being told that many of his constituents have still to get the flu jab.
Alexander Stewart, a Scottish Conservative representative for the Mid Scotland and Fife, blamed the Government, claiming they had not bought enough flu vaccine in time and that vulnerable residents were being put at risk as a result.
He cites figures – taken up to the end of October — that show 39% of people aged over 65 who are classed as the most 'at risk' group have had the flu jab in Scotland, compared to 45% at this stage last year.
First Minister Nicola Sturgeon recently came under fire at Holyrood when she was questioned on lack of supplies in Scotland. Ms Sturgeon had told MSPs the flu vaccine shortage issue was "UK-wide."
On Thursday, Mr Stewart said he is "acutely" concerned at the situation and stated he feels the flu immunisation programme should have been completed by the end of November.
"I have been contacted by various residents across Perth city and across Perth and Kinross who are experiencing these delays and who have not yet received their flu jab," he said
"The quicker it is done the better.
"These vaccinations are the best available protection against the flu virus — it is very safe, only takes a few minutes and lasts for the year.
"This programme should have been complete and everyone catered-for by the end of November, but it is clear that this will not be the case."
He continued: "The Scottish Government has to take responsibility for this serious mismanagement which is putting vulnerable individuals at risk. And this in turn could put extra pressure on local hospitals who are already experiencing high demand.
"The Scottish Government must give assurances that this is rectified as soon as possible and especially before we experience the onslaught of winter."
A Scottish Government spokesperson said only 44% of data is available from Scottish GP practices at this time regarding the flu vaccine, and said demand for the jab has increased this year.
"Data from additional practices in Scotland will be available from December 2 onward," he commented.
"This winter we have bought more than 200,000 more doses of vaccine than last year to support the flu programme, with additional stock purchased in the last few weeks to support GPs to respond to higher demand than experienced last year."