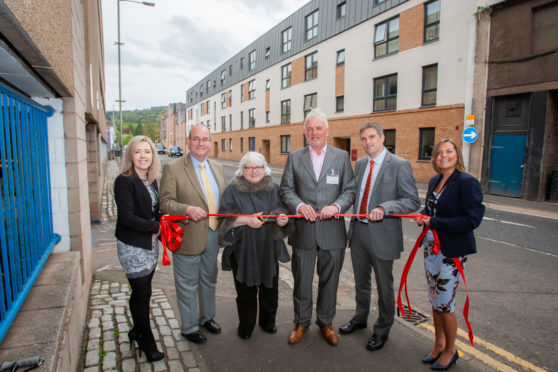 A housing association has been slammed for "systematic failures" causing "serious and urgent risks" to tenants.
The Scottish Housing Regulator (SHR) has been scrutinising Fairfield Housing Co-operative for the last nine months and bosses of the Perth-based social housing provider launched an independent investigation in July, following allegations of misconduct and mismanagement.
Problems unearthed in the report were so severe the regulator has appointed a manager to take control of Fairfield.
A regulation plan published by SHR this week said the manager will address "serious and urgent risks to tenants", manage the association's relationships with tenants and lenders and find a way to resolve the issues, while carrying out a further inquiry.
Fairfield manages 514 homes across Perth and Kinross and has been a registered social landlord since 1988. It has been behind a number of recent social housing projects in Perth, including flats in the city centre's Canal Street and 100 homes in Muirton.
A spokeswoman from the SHR said she was unable to give details of the issues, or the "risks" facing Fairfield's tenants, but the plan highlighted problems with taking payments and mismanagement.
It said: "The investigation highlighted a number of areas of serious concern including the inappropriate receipt of payments and benefits and systematic failures of governance amounting to mismanagement.
"It also found that there had been poor procurement practices, failures to manage conflicts of interest and to uphold the standards of conduct expected of registered social landlords.
"These governance failures have contributed to the potential inappropriate use of Fairfield's funds and resources."
Concerns were also raised about business cases for upcoming developments. The association is involved in social housing elements of major current developments including Bertha Park and in Bridge of Earn.
The report acknowledged Fairfield management has worked openly with regulators during the investigation but added "expert support" is needed to solve the problems.
Fairfield declined to comment on the report.
Perthshire South and Kinross-shire MSP Roseanna Cunningham said tenants must be protected during the investigations.
"I was very concerned to receive information regarding issues relating to Fairfield Housing Association," she said.
"There are several very serious areas of concern and I will be maintaining a keen interest in how the regulator's investigations are progressing.
"I trust that the immediate steps that the regulator has taken will ensure that there is no impact on my constituents who are tenants of Fairfield Housing Association and who will be extremely concerned to learn of these developments."
During the next six months, Fairfield's manager and board will send regular updates to SHR, as well as business cases, audited financial statements and five-year financial projections.