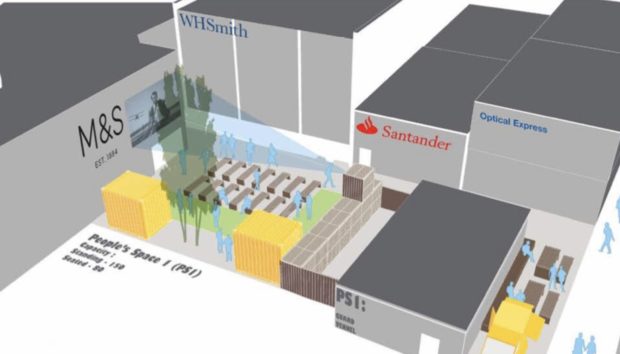 Superstar designer Wayne Hemingway has inspired a radical regeneration plan for Perth's gloomy vennels.
On Thursday, The Courier revealed how artists Elizabeth Ogilvie and Rob Page will transform an expansive brick wall on Mill Street with moving images of the River Tay.
Council bosses have taken the wraps off a new project, which aims to breath fresh life into a derelict bit of wasteground at the back of the High Street, paving the way for an outdoor performance venue to host art events and a pop-up cinema.
Plans have been submitted to convert the land into an attractive public space for use by community groups and residents.
It follows advice from style guru Hemingway, founder of Red or Dead and a professor of Built Environment. When he helped shape Perth's City of Culture bid, Hemingway called for a rethink of the historic vennels and alleyways that run through the city centre.
He said: "It has become totally apparent now that our town centres have to become dynamic and interesting cultural leisure and social destinations in order to support retailers and to maintain and increase their vibrancy.
"The Perth vennels provide ideal spaces and routes that can encourage people to explore the city, and offer serendipitous low cost spaces for art, events and pop-up retail."
He added: "The vennels project can play a powerful role in Perth's place brand."
The earmarked site, at the rear of WH Smith, will look on to the Mill Street mural wall. Plans submitted by Fergus Purdie Architect show how the area, part of the city's Culture Quarter, can be used to host – amongst other things – cinema screenings.
The Guard Vennel, which leads into the "forgotten space" will also be improved with lighting and new art.
Perth and Kinross Council leader Murray Lyle said: "Perth has a well-earned reputation for staging fantastic public events. Areas like Horsecross Plaza, around Perth City Hall, and the pedestrianised High Street and St John Street, have been used well to stage one-off events which bring thousands of people into the heart of the city centre."
He added: "The historic vennels which link our city's streets also have lots of potential to offer.
"These plans for site PS1 (Public Space one) at Guard Vennel are an exciting opportunity to make good use of previously overlooked or wasted space, and create an area which can be enjoyed by community groups and other organisations to bring smaller events to life in a flexible and interesting space."
The council's application for planning consent will go to consultation in the new year.