This is the moment a young Perth cancer patient was left speechless after receiving a puppy for Christmas.
Lily Douglas, 11, whose brave battle with Ewing's Sarcoma has touched hearts across the globe, received the cute pooch from Santa on Tuesday.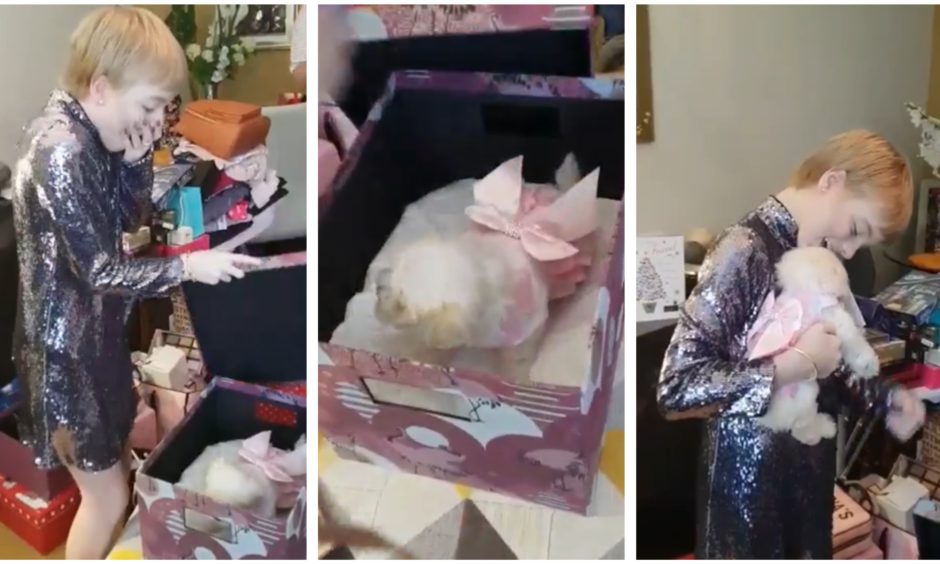 The keen dancer was left delighted after opening up a small box to find the tiny maltipoo, later named Belle, inside wrapped in a pink bow.
Lily's mum Jane shared the touching moment the pair met for the first time on Christmas Day.
The video has been seen by thousands of people via social media.
https://www.facebook.com/photo.php?fbid=10214332085910414&set=a.3812041013939&type=3&theater
Jane said: "Lily has wanted a dog since she was little. She was over the moon. She played with her the whole day.
"It was very emotional as she so deserves the puppy. She has been through so much, I could not say no.
"It has been lovely to see all the lovely well wishes on social media. I am sure it's the best-loved puppy in Perth."
It comes as Lily prepares for her next round of treatment at Edinburgh's Royal Hospital for Sick Children. She may have to spend Hogmanay there, with chemotherapy expected to start around January 3.
Lily was taken to the hospital earlier than expected on Boxing Day after taking ill due to an infection.
Jane said she originally planned to surprise Lily with a puppy when she rang the end-of-treatment bell at Ninewells Hospital earlier in 2018.
The youngster's family hoped she had beaten cancer earlier this year after groundbreaking therapy in the US – but suffered a setback in October after discovering the disease had returned.
Jane added: "It was decided long before we got her that my friend Kirsty would take her anytime we had to go to hospital.
"Unfortunately that happened sooner than we hoped as Lily spiked a temperature on Boxing Day, so we had to come into hospital sooner than we hoped.
"Her treatment has been postponed as she has an infection so we are on the ward at Edinburgh (Royal Hospital for Sick Children).
"We're hoping she will be well enough to start chemo on January 3 and we're not sure if we will get home before then.
"But we dropped Belle the puppy off at Kirsty's and she has looked after her since. Lily Facetimes her puppy lots."
Lily has already gone through chemotherapy, nine operations and proton beam therapy in America, as well as battling seven infections.