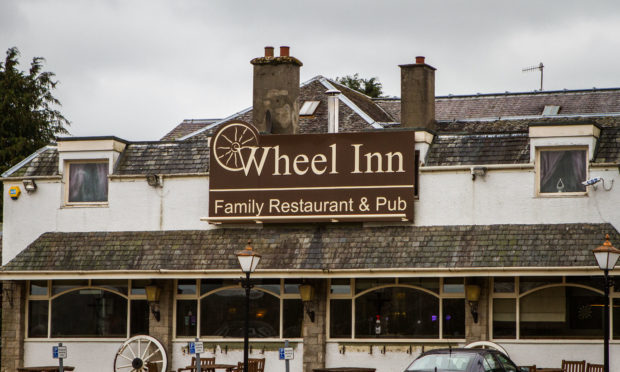 A businessman blamed for the sudden closure of a landmark Perth hotel has shut the doors on another local establishment, causing widespread confusion and further job losses.
Stuart Shearer took the reins at Scone's Wheel Inn last year, just weeks after he controversially closed the Fair City's Lovat Hotel with the loss of about 50 jobs.
Now the Wheel Inn has also shut without warning and around a dozen staff have been made redundant.
The well-known family restaurant and pub was run by Mr Shearer under his firm TWI Scone, for management firm Three Thistles and the building's owners Caledonian Heritable.
A source close to the establishment told The Courier Mr Shearer had handed in his keys over the festive period.
However, locals have claimed Mr Shearer was forced to quit after decisions about funding by management.
Plans have already been lodged to tear down the establishment and build more than 50 retirement homes on the land.
Developer Juniper Residential has an agreement to take control of the venue, if and when planning permission is approved.
However, it was thought the Wheel Inn would continue until construction was ready to begin.
Community groups that use the pub say they were in the dark about closure plans, with some left scrambling to find new accommodation.
A handwritten note stuck to to front door states that Movers and Shakers classes will continue at a nearby church hall, signing off: "Movers and Shakers are not sure if the Wheel Inn is closed for business or not."
Mr Shearer could not be reached for comment. A spokesman for Three Thistles declined to discuss the situation, and Caledonian Heritable declined to respond to e-mails and phone calls.
Local Lib Dem councillor Lewis Simpson said: "The Wheel Inn has been a valuable resource for the village, so this is very disappointing news.
"It was always well used by local groups and I hope that someone will step in and get it going again."
The closure has not been announced on the Wheel Inn's website of Facebook page.
The Lovat Hotel closed almost exactly a year ago, throwing local couples' wedding plans into disarray.
Mr Shearer was accused of going into hiding after arranging for staff to be handed a terse redundancy letter.
When he moved to the Wheel Inn, several staff walked out in protest. Mr Shearer also called the police on a young couple who were left £2,000 out of pocket when the Lovat closed.
The Lovat Hotel has since reopened under new management.