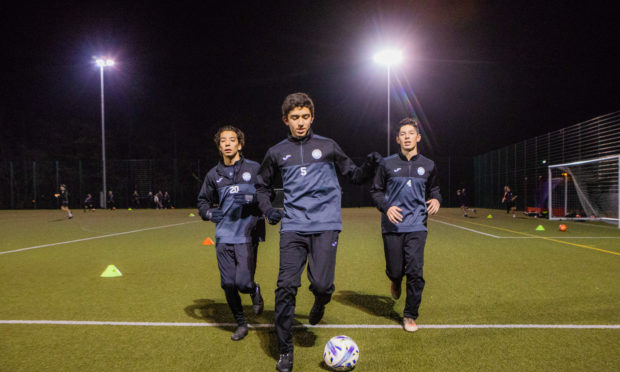 New signings from the other side of the world have brought an international flavour to a well-known football club in Perth.
The Jeanfield Swifts have welcomed new players all the way from Mexico.
Jorge Palma, Daniel Milan and Diego Hernandez have been adjusting to a change in temperatures during training with the 90-year-old club's boys section.
They are three of four new additions from Mexico who arrived in Scotland late last year to attend classes at Glenalmond College.
Diego, Daniel and Jorge have joined the 2003 squad, whilst fourth player Alex has joined the 2002 Blacks.
They are already making waves at the club, with each one notching their first goals for East of Scotland League side.
Daniel scored in the Scottish Cup, whilst Diego, Jorge and Alex all opened their accounts in League matches. Spectators have been treated to two spectacular goals from Jorge and Alex in particular and officials say there's a promise of more to come.
Iwan Davies Secretary of Jeanfield Community Club said: "Right across the club we have lots of players from our local area, but it's a real privilege for us to welcome these lads from the international community.
"They are here for a year so we're really pleased to help them have a positive experience of Scotland beyond their school gates whilst they are visiting."
Mike Jeffers, Head of Admissions at Glenalmond added: "As a long-established Perthshire school, we are always keen to work more closely with our local community.
"Sport is an important part of our school experience and through this partnership with Jeanfield we're delighted that our international students can benefit from a high level of football with one of the best local clubs during their stay in Scotland."
Steven Duncan, head coach of the 2003 team said the new stars had settled in well. "It's been great for the players in our team to have the chance to work with boys the same age from another continent and culture.
"They are coping well with the weather so far and have a great appetite for the game."