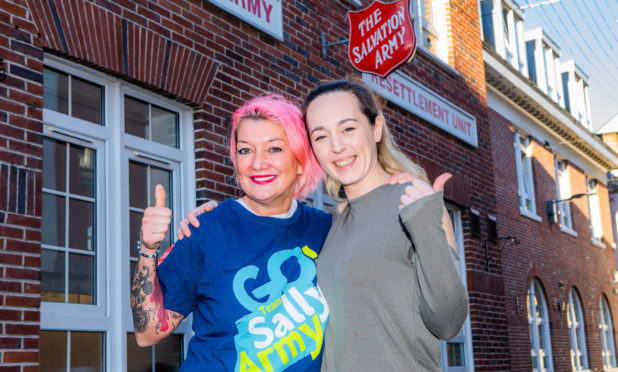 A pair of Perth charity workers are gearing up for an epic trek across three countries to raise money for victims of domestic abuse and human trafficking.
Kimberly Hunter and Fiona Howie, who work together at the Salvation Army's Skinnergate Lighthouse, will be hiking 30 miles across the Alps, passing through parts of Italy, Switzerland and France.
The duo are aiming to complete their challenge in just three days.
They are now raising £4,400 to take part in the adventure, which has been organised by the Salvation Army.
Proceeds will go to support people affected by modern day slavery and domestic violence, but money will also go directly into services at the Perth lighthouse, which provides crucial support for homeless men.
An evening of live music has been organised next month to help them reach their target.
Ms Howie, 37,  said: "The charity does a big event every year, and last year it was a trip to the Great Wall of China.
"When we heard about the Alps we thought: Let's do it, it's going to be awesome.
"I think it was only after we signed up that we realised what we had agreed to take on.
"But I think it will be fine. In fact, we're really buzzing for it."
Ms Hunter, 33, said: "We've never done anything like this before. I do enjoy hill walking, but trekking over the Alps is going to be a different thing altogether.
"We've been in the gym quite a lot recently, but a lot of the people taking part seem to do Munros every weekend, so we might have to step up a bit."
The friends said they have received huge amounts of support from people in Perth. A recent bag pack in Morrison's supermarket raised nearly £900 in just a few hours.
A fundraising music night will be held at the city's Forty Four Bar, Atholl Street, on February 9 from 8pm, featuring popular acts The Foosties and Huey Broon and the Bullets.
There will also be a DJ and raffle. Tickets are available from the venue, Skinnergate and Concorde Music.
A sponsored static cycle challenge is also planned.
Ms Hunter said: "I'm looking forward to the mental and physical challenge of it all. Plus the scenery is going to be amazing."
The pair have set up a fundraising website – www.justgiving.com/fundraising/fiona-howie2 – to accept donations. They will set off on their adventure in June.