A Perth man who has collected hundreds of coffee cups from the sides of local roads has been recognised with a national award.
Self-proclaimed litter hater Duncan Cameron, from Gannochy, has gone out to pick up rubbish a few times a week since he retired three years ago.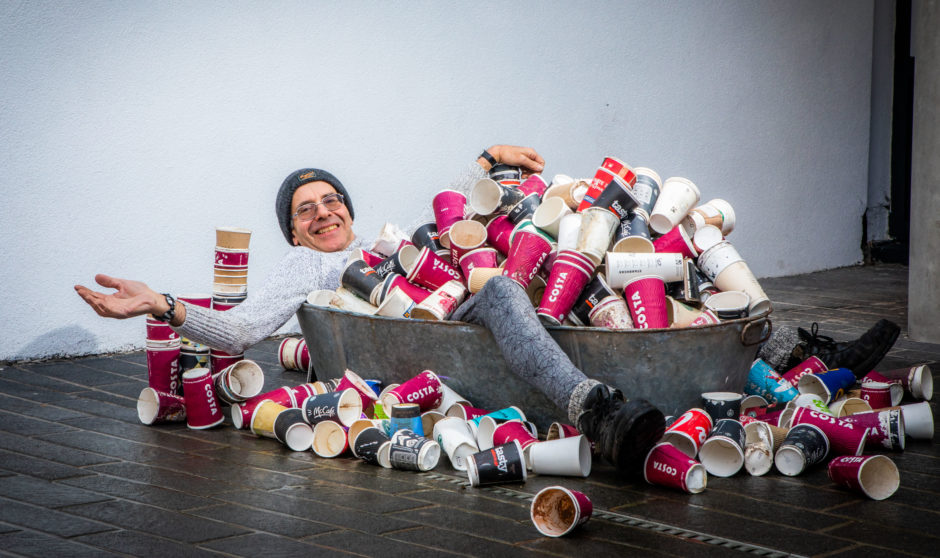 Last year he decided to keep a tally of single-use cups and discovered he had collected a staggering 566 hot drink cups in 2018, as well as 527 cold drink containers.
He picked them up on his regular walks around Bridgend, Isla Road, Scone Palace and the A94 between Perth and Scone.
The 65-year-old's efforts have now been recognised by environmental charity Keep Scotland beautiful, which named him the Clean Up Scotland Hero of the Month.
Duncan said: "I really hate litter and the scourge of single-use coffee cups really gets up my nose.
"I started doing the litter picks when I retired because I was so fed up of seeing all of the litter on the sided of the road.
"I got 16 bin bags full on my first deep clean and since then it has been one supermarket bag per trip ever since, to keep it tidy.
"It gives me exercise and gets community benefit at the same time. It really makes a difference, especially heading towards Scone Palace because of its tourist importance."
This year Duncan has started a new record of cups and he is hopeful that he will see a reduction as more people move away from single-used plastic.
He said: "I think we have hit this at the right time.
"Last year was the start of an open discussion and awareness of single-use cups and hopefully this year people will be more conscious of it and we'll have better legislation in the coming years.
"I hope pictures of my 'haul of shame' will encourage others to dispose of their litter responsibly."
Duncan's efforts were praised by Sam Martens, project coordinator of Zero Waste Perth.
He said: "Duncan has been a real unsung hero these past few years in fighting back against the scourge of single use disposable cups and I'm delighted that his efforts are being recognised as Clean Up Hero of the Month.
"Duncan's efforts have really highlighted the scale of waste and littering caused by disposable cups. Hopefully we'll see a reduction this year so Duncan can enjoy a well-earned break."