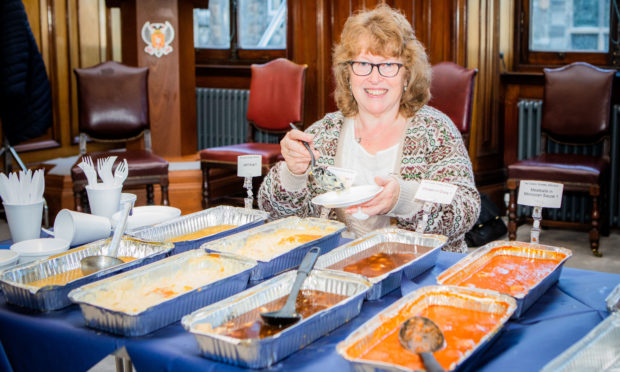 As our nation's health and wellbeing are hot topics so a visit to taste Perth & Kinross Council's proposed primary school meals, to be prepared centrally by Tayside Contracts, was a must.
Tayside Contracts plan to prepare, cook and freeze meals at their Dundee premises, delivering sufficient for four week cycles to school hubs, and from there some heated meals will go on to smaller schools.
Our mission was to taste the difference: one selection reheated from frozen, the other freshly cooked that day.
50 Perth and Kinross school catering jobs to go as new frozen meals plan is approved
As these meals will inevitably be prepared on a giant scale, freezing is arguably not the only issue here.
Tayside Contracts were keen to point out they minimised processed foods and used local ingredients as much as possible including potatoes from Montrose and QMS beef.
The discussion, however, centred on fresh or frozen.
Feedback in the room was generally positive with some uncertainty as to which was which.
To others, myself included, the difference was detectable. Whilst some dishes froze well, texture variations were unmistakable to trained taste buds.
The meatballs in Moroccan sauce were very pleasant, so it was disappointing their texture had deteriorated on freezing – meat itself does not react this way, so perhaps added starch caused this?
One can only surmise.
The chicken was also a casualty of freezing, although less so, with macaroni cheese coming off worst. In the frozen version the pasta had all but disintegrated! If they want to continue that dish they will need to revisit their pasta supplier!
Soups and bakes generally freeze well and there was no exception here.
The lentil soup was a success and the fruit gingerbread with custard will likely be popular.
All dishes sampled were served in sauces, generally a good plan for frozen meals but they will need to ensure there is sufficient variety and flavour to educate the next generation's palates.
Wendy Barrie is the Scottish Thistle Award Regional Ambassador (2018/19) for Central, Tayside & Fife, the founder and director of www.scottishfoodguide.scot, a school meals adviser and Food For Life Served Here Standards committee member.