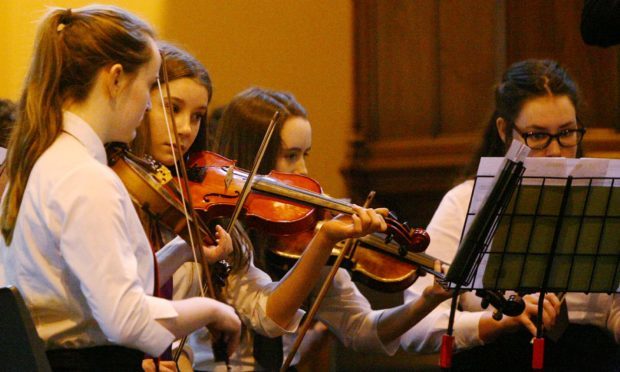 A controversial budget plan to nearly triple the cost of children's music lessons has been condemned by a trust set up to support struggling families.
Perth and Kinross Council is considering raising the price of music tuition from £295 to £816 per pupil.
It is just one of a series of cash-saving options proposed ahead of next week's budget talks.
The local authority will debate making more than £50m of savings by slashing winter maintenance crews, closing recycling centres and cutting the pot hole repairs budget by 50%.
The Perth and Kinross Music Foundation, which was launched 20 years ago, is urging council bosses to reject a proposed hike in tuition fees. It follows a controversial 20% rise introduced last year.
Vice-chairman Andrew Mitchell said: "There is evidence that fewer parents have put their children forward for instrumental tuition in the past year, in the wake of an initial 20% increase last year.
"Once you add on the cost of central groups, where children have an opportunity to play together in bands and orchestra, that's over £1,000 per pupil."
Mr Mitchell added: "Once the local authority organise the tuition in the form of group lessons and so, minute for minute, private lessons would work out cheaper.
"Families with more than one child will definitely think twice."
He said charging more for tuition would effectively make the service "disappear", adding: "Certainly, there is no sign that PKC have effectively reached out to the growing families in need, in the name of inclusion, as a result of the impact of their last increase."
Mr Mitchell said: "This annual budget wrangling has a long term impact on the families who simply want the best for their children. This process plants doubt in the minds of parents and huge anxiety for the children and their tutors."
He added: "For over 20 years now, the Perth and Kinross Music Foundation sought to support families who cannot afford the fees to learn and to play in the central groups. There has been a terrific response this year to support our work from groups and individuals who share our passion for music education.
"But with the proposed increases, we will certainly struggle to sustain the same level of support we have achieved in the past."
Last year, the foundation delivered a 1,200-signature petition to the council's High Street HQ, urging bosses to rethink their spending strategy.