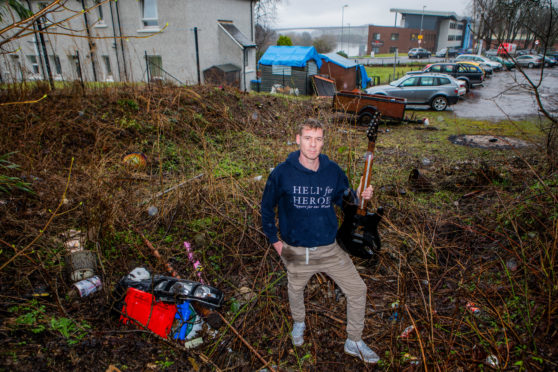 An army veteran has told Perth and Kinross Council to install a gabion wall around the former landfill site near his home before it's too late.
Harry Marshall Senior was housed in a flat at Riverview Cottages on the banks of the River Tay around 18 months ago, as part of a recovery programme to help him cope with post traumatic stress disorder (PTSD) and a brain injury picked up whilst serving in Bosnia.
The 39-year-old believes this is the right place for his recovery, but is fed up of waste sprouting out of the banking behind his home.
The land at the back of his garden, a covered up landfill site on which the Friarton Recycling Centre sits, is steadily sliding forward and revealing all manner of buried rubbish – which is then blowing across the road towards the River Tay.
Harry said: "I noticed loads of plastic along the fence by the river one day. I went and picked it up and by the end of the week it was just as bad again, so I've been going out to pick it up since no-one else is.
"The land keeps sliding forward and plastic keeps pouring out of the hillside. It's moved over 1.8m since I moved in.
"I've had all sorts of rubbish. There's been over 30 oil cans, five TVs, an electric guitar and it looks like a bath is being born out of the mud just now. As a result, the hillside is crawling with rats – I've caught some the size of cats."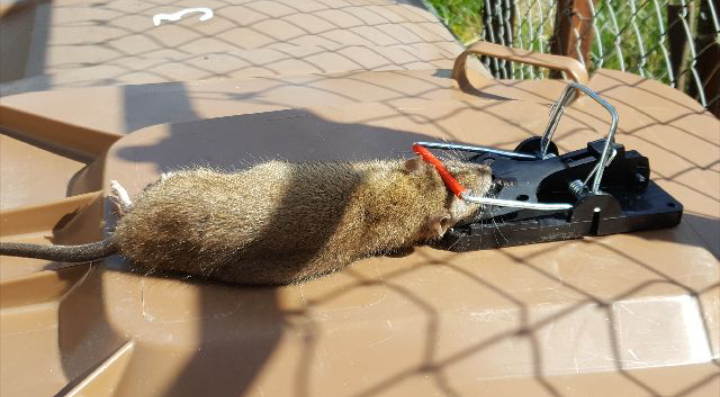 The dad-of-two wants Perth and Kinross Council to extend the gabion wall which holds back the banking further round the hill.
"It's an eyesore. There's a retaining wall along the side of the council depot, but it stops before my house," he added.
"The council needs to install a gabion as soon as possible. They've put pegs down to measure how much land has moved but that's not enough."
Harry believes the filthy conditions has led to passersby believing the car park behind his home is an active landfill site and he's now reluctant to let his eight-year-old son play outside.
"It looks like a tip, so people who come to the recycling centre after 6.30pm see this on their way past and fly-tip. If you saw it, you'd think it was a landfill site.
"It's raining plastic. It's horrific to see it blowing across the road and into the water.
"We need to stop the plastic getting into the river. There's stunning wildlife here and to let the river fill with plastic would be criminal."
Perth and Kinross Council did not provide a comment when requested.