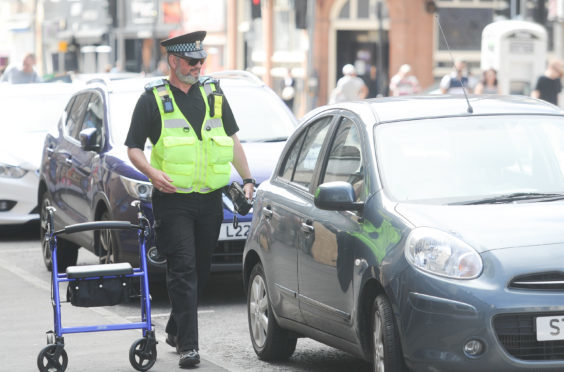 The money received by Perth and Kinross Council through car parking fines in the city has rocketed 74% in two years.
Income generated through parking tickets rose from £223.923 in 2015/16 to £389,823 in 2017/18.
The trend looks set to continue with £380,324 received from parking fines in 2018/19 up to January 31 – a 69% increase from 2015/16, figures obtained through Freedom of Information legislation show.
Within the same time period the highest rise in income generated from legal on-street and off-street parking is only 9% and 4% respectively.
Business owners in the city say they have noticed a change in the last number of years and believe parking restrictions such as the four hour maximum stay and the increase in the number of disabled spaces are driving customers businesses out of the town centre.
South Street business owner Mark O'Callaghan said the charges in town are driving people to retail parks where parking is free.
He said: "It's getting a lot worse.
"We all understand that we have to charge people to park but there has to be a lot of haggle room in there.
"If you want people into town but it's free somewhere else then they're going to go there.
"I pay a lot on business rates but I can't get a parking permit.
"There's a lot of disabled spaces but not as many [disabled] drivers.
"They could be doing more to encourage people into the town instead of going to retail parks.
"The thing they did at Christmas was great with the free parking and it encouraged more people into the town."
Perth and Kinross Council say there has been no policy change or new directive to account for the increase in fines, but confirmed they have increased the number of parking attendants employed.
A council spokesperson said: "We do take an intelligence led approach across the region, and if we are made aware of a persistent problem in an area then parking attendants will be deployed to advise the public on the parking restrictions in place.
"However, if someone is caught parking where they shouldn't be or over staying their time then they will receive a penalty charge notice.
"There is an issue with drivers who are not entitled to using disabled parking bays, which has also lead to an increase in penalty charge notices being issued."