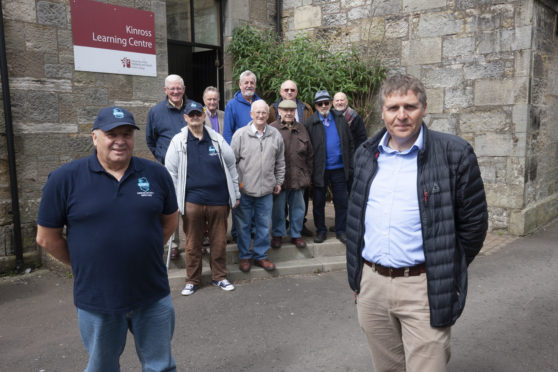 A Men's Shed group has launched a bid to keep the Kinross Learning Centre in the hands of the community.
UHI Perth College announced the imminent closure of its satellite learning centre last month.
The centre will close its doors in a educational capacity in June, with "significant financial challenges" meaning the learning centre will not reopen after the summer break.
The building has been put on the market for offers over £120,000 but the community group is hopeful it can take over.
Roy Gilmour, secretary of Kinross and District Men's Shed, said: "We're trying to purchase the UHI centre.
"The building is up for offer and we believe there have been three or four bids.
"I think most developers would see the building and want to convert it into flats or a big house. There's already lots of housing getting built around Kinross.
"This is the last real community building we have. It's a perfect size for us and in a much better location than we're in now.
"We have 99 registered members with a core group of about 15 to 20 men. We're currently based in an old wine warehouse in Milnathort. It's very cold and doesn't have much in the way of electrics.
"We've had interest from other community groups who are keen to use the building with us, such as Sparks, a local disability group.
"We don't have deep pockets, but I think UHI are sympathetic towards our situation. Money might talk in the end, but we are hoping to persuade the powers that be."
A substantial amount of money has been made available to the group from the Arthur and Margaret Thompson Trust, which offers funds towards community projects within Kinross.
A Perth College UHI spokesperson said: "We have been in discussions with Men's Sheds representatives, as well as other community interests.
"We are currently considering all options and requirements and hope to make a decision on the future of the building as soon as possible."
The campaign has been backed by ward councillor Richard Watters, who believes the building is a perfect fit for the Men's Shed group, as well as many other community organisations.
He said: "With the closure of the Swansacre Learning Centre, the building is now for sale on the open market and there is a real risk that it could be lost to the community.
"The loss of the building would be another major setback on the list of facilities that have been sold in Kinross, adding to the ongoing problem for organisations and groups seeking suitable venues.
"I fully support this bid and would ask the community to get behind saving the building for community use."