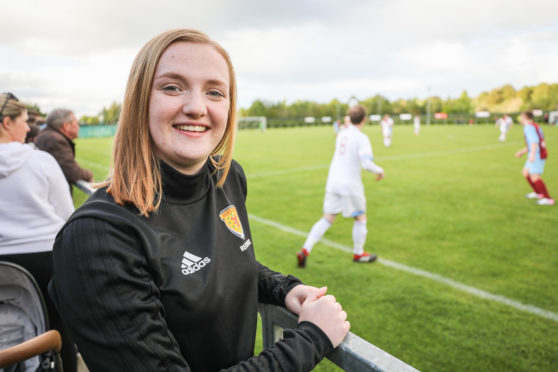 "If it wasn't for football, there's a slim chance I'd be here today" – Isla Buchanan has put the turnaround in her life off the pitch down to her love of spending time on it.
The 18-year-old, who is studying sport and fitness at Perth College UHI, has turned to the sport over the past six years to help overcome a traumatic period in her life after her mum had a stroke.
Avid football fan Isla, from Perth's Letham area, became a young carer and battled against mental health problems and suicidal thoughts, but soon realised it was the love of the game pulling her through.
Now a coach and referee, and fronting a Scottish FA-backed mental health campaign, Isla has opened up about how she has risen above the issues she faced, and encouraged others who are feeling the same way to talk about how they feel and get involved with the sport.
Football saved my life. Its giving me the confidence to speak out. There is always someone out there that will listen.?#itsokaynottobeokay https://t.co/7sreslZdmK

— Isla Buchanan (@IslaBuchanan8) May 20, 2019
She said: "I started getting into football when I was 10, just by watching it on TV and going to St Johnstone games with my granddad. I asked my dad for a pair of boots and he said not until I joined a team.
"Two years later, my mum had a stroke and it was totally unexpected. That was when I began to become ill, and I didn't realise football was getting me through it.
"I had become a different person, but I was myself when I was playing football. Then, it was back to the reality of any young carer, cooking and cleaning.
"Eventually I completely exploded. I had to go to the doctor, I was on medication, I had counselling, suicidal thoughts and I stopped eating and drinking.
"I thought that that was the normal feeling for a girl who is 12 or 13. It really wasn't.
"The only thing I would get out of bed for was football. I'd spend hours in the garden just kicking a ball about, getting my frustration out. I still struggle sometimes and I'll do that or go out for a run when I feel low.
"I started playing football when I was 10, and spent six years at Letham before moving to Jeanfield.
"I've been coaching at Letham since I was 14, all ages, girls and boys, and some disability football too. I want to go as far in coaching as I can. I've become qualified as a referee too.
"Football saved my life. There's probably a slim chance I'd be here today if I didn't have that.
"The message that I want to get across is that there's always support though, and I had my family too. It's really important to talk about how you feel."