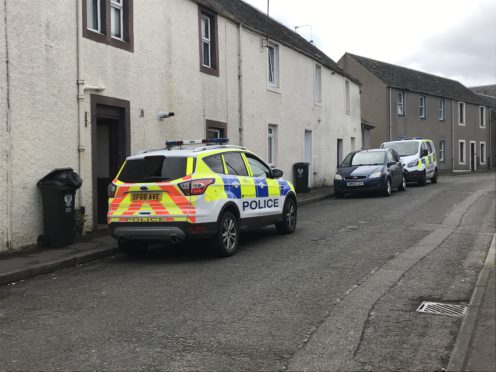 Police have declared that the death of a man in Auchterarder on Friday evening is not suspicious.
Forensic officers had a round-the-clock presence at the property on Ruthven Street, with eyewitnesses reporting multiple bags of evidence being taken away.
Locals said police had arrived at the scene on Friday afternoon and they were still on site on Sunday afternoon and officers remained tight-lipped about the nature of the incident.
Officers had described the death as "sudden".
A police spokesperson said: "Police Scotland attended at Ruthven Street in Auchterarder on May 24 at 5.30pm following the sudden death of a 56-year-old man.
"There are no apparent suspicious circumstances.  Enquiries are continuing and a report will be submitted to the Procurator Fiscal."
Residents in Ruthven Street said officers arrived at the scene on Friday afternoon and had not left since.
One woman, who did not want to be named, said: "I was being picked up by a friend and as I was standing there I noticed there was two police cars.
"A person came out of the house wearing white overalls and a mask – I think she was forensics.
"Every time I've driven down there since there's been at least one police car.
"Apparently something also happened around the corner and you wonder if they are linked? I was feeling a bit nervy as they've been there two days – It was just seeing the forensics made me shiver."
Other residents said that no-one had told them what was going on.
One woman said: "I came home from work on Friday and they were here. I don't know what happened – I haven't spoken to anyone."
Another resident added: "The police came Friday afternoon – there was also two ambulances and a support vehicle. They're still there but I don't know what's happened.