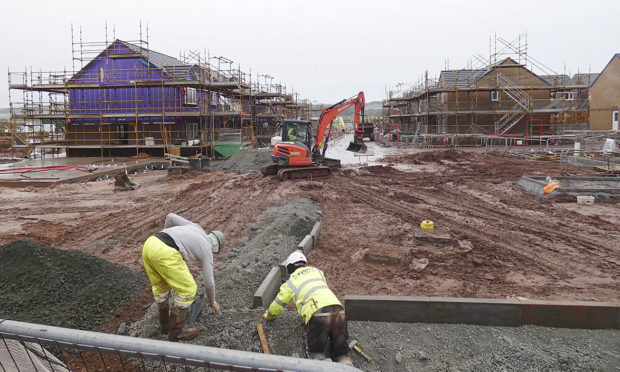 Construction giant Persmisson Homes will have part of its new Kinross-shire housing development sealed off in a bitter dispute with council chiefs.
The company has been accused of building several unauthorised streets at its 350-home Lathro Farm estate.
On Thursday morning, Perth and Kinross Council will take the unusual step of fencing off the roads, putting them out of action for several months.
The local authority has said efforts will be made to retain access for people who are already living on the site, as well as for new home-owners who are due to arrive in the coming weeks.
However, Persimmon has been told to get all trade vehicles off the affected area.
Since construction began on the land, between Kinross and Milnathort, in 2017 there has been a stream of complaints from local residents who claim the developer has broken several planning conditions.
The roads that will be shut off are between the finished houses on the west side, and the motorway.
Local Liberal Democrat councillor Willie Robertson said: "I just find it incredible that such a well known, national company would behave in this way.
"Dealing with complaints about Persimmon has become a full-time job."
He said: "There are already people living on this estate and they will be greatly disadvantaged for quite some time by having these streets fenced off.
"I just can't understand how something like this can happen in this day and age."
A council spokeswoman said: "Persimmon Homes are currently building homes at the Lathro Farm site in Kinross under a planning consent granted on March 31, 2017.
"The roads forming phase 1B at the west side of the site are being constructed without Road Construction Consent. This constitutes an offence under Section 23 of the Roads (Scotland) Act."
She said: "This closure will remain in force until consent has been granted and this may take several months.
"We are aware that some properties within this phase of housing have already been sold, with move-in dates imminent.
"A short section of unauthorised road which provides access to these properties will not be included within this closure for the benefit of these new householders."
Persimmon Homes North Scotland said it was still investigating the matter and would issue a statement in due course.
In April, council chief executive Karen Reid said that Persimmon was following rules imposed with planning permission, specifically in relation to the distance between new housing and existing housing, following allegations of infringement.