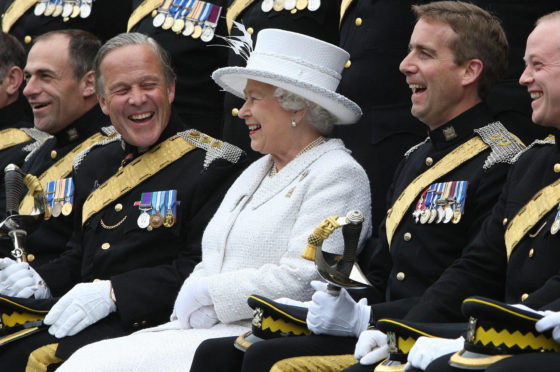 A senior British Army officer who has spent years strengthening links between Perth and the Royal Family could be granted the freedom of the city.
Brigadier Sir Melville Jameson is due to retire from his post as Lord-Lieutenant of Perth and Kinross after nearly 14 years.
Council bosses want to show their gratitude for his "remarkable contribution" and "unwavering support" by awarding him one of the area's highest honours, the prestigious Freedom of the City of Perth.
If approved, Mr Jameson will follow in the footsteps of former Prime Minister Sir Winston Churchill, writer John Buchan and Prince Philip, the Duke of Edinburgh.
A ceremony is being planned for August, as part of the annual City of Perth Salute procession which Mr Jameson was instrumental in setting up.
Mr Jameson, who was made a Knight Commander of the Royal Victorian Order (KCVO) in the Queen's birthday honours last year, retires on July 17.
In a report to councillors, Democratic Services Manager Christina Flynn said: "During his tenure, the Lord Lieutenant has fully embraced the role of ambassador for Perth and Kinross at every opportunity.
"He has been instrumental in attracting a number of high profile events and securing royal visits to the area.
"The economic impact that can result from a Royal visit, major civic event or presentation of awards and medals should not be under-estimated."
She added: "His professional reputation, connections with people all around the world, and his passion and enthusiasm to promote the area have provided the perfect platform for him to carry out his role as Lord-Lieutenant."
Mr Jameson was commissioned into the Royal Scots Greys in 1964 and went on to command the Royal Scots Dragoon Guards in the late 1980s.
He was promoted to Colonel in 1990, then Brigadier four years later as he commanded the 51st Highland Brigade. He also served as Chief Executive of the Royal Edinburgh Military Tattoo for nearly a decade.
Many Tattoo performers from all over the globe take part in the now-yearly City of Perth Salute.
Mr Jameson also championed Perth's bid for city status, as well as helped establish the first International Youth Band Festival and the City of Perth classic car parade which was attended by Prince Michael of Kent.
He is also a strong supporter of the council's bid to bring the Stone of Destiny to Perth.
Councillors will be asked to grant Mr Jameson Freedom of the City at a meeting on Wednesday.
Freemen of Perth
The last Freedom ceremony took place in Perth in July 2012, to mark the historic visit of the Queen and Prince Philip during Diamond Jubilee celebrations.
Other Burgesses and Freemen of the City of Perth include:
Novelist John Buchan – September 29, 1933
Insurance company director Francis Norrie-Miller – September 29, 1933
Duke and Duchess of York, Albert George and Elizabeth Marguerite – August 10, 1935
Barrister Sir William MacKenzie, Lord Amulree – March 18, 1938
Distiller Arthur Kinmond Bell of Kincarrathie – March 18, 1938
The Black Watch (Royal Highland Regiment) – July 19, 1947
Field Marshall the Right Honourable Earl Wavell – July 19, 1947
Former Prime Minister Sir Winston Churchill – May 28, 1948
Former Prime Minister Anthony Eden – May 12, 1956
Sir Stanley Norie-Miller – September 14, 1961
Surgeon Dr William Farquharson – July 24, 1970
Sir Neil Cameron, RAF Marshall – August 26, 1978
Former Lord Provost David K Thomson – October 30, 1982
The Royal British Legion Scotland – May 8, 2004
51st Highland, 7th Battalion, the Royal Regiment of Scotland (7 Scots) – May 8, 2010
HRH Prince Philip, the Duke of Edinburgh – July 6, 2012