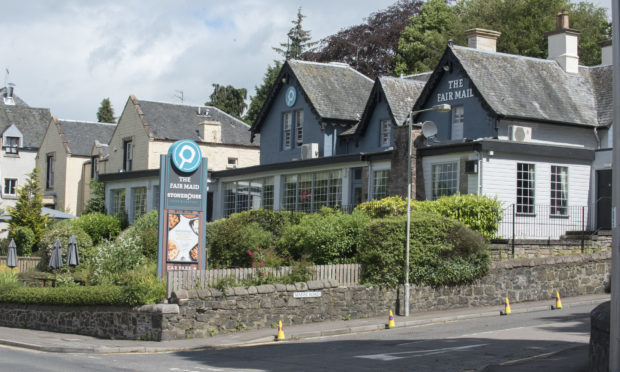 Restaurant bosses are refusing to disclose the number of job losses which will result from the closure of a Perth city centre eatery.
The Fair Maid Stonehouse has now shut its doors, with the future of the staff still up in the air.
Umbrella firm Mitchells and Butlers said that talks are ongoing to move workers to nearby restaurants, but the firm have refused to state how many jobs are set to be lost.
The firm has also not disclosed the number of employees who work at the restaurant, which is joined onto the Isle of Skye Hotel Travelodge and will be affected by the closure.
A Mitchells and Butlers spokesperson said: "We're continuing discussions with employees about future redeployment opportunities."
The firm explained that they would not be able to speak any further as discussions with employees are kept strictly confidential.
Mitchells and Butlers run two other businesses in Perth, the Glover Arms Vintage Inn just off the A85 and the Broxden Manor Harvester.
The Dundee Road Stonehouse branch's closure comes as part of a wider review of the company's estate as it looks to make financial savings.
Having formerly operated as a Toby Carvery, the restaurant was renovated in early 2017. Mitchells and Butlers currently have no fixed plans for the vacant premises' future.
Perth and North Perthshire MP Pete Wishart has called on the firm to enter dialogue with trade unions and local politicians.
He said: "I am disappointed to see that Mitchells and Butlers are not being more transparent with what the closure of The Fair Maid Stonehouse will mean for staff here in Perth.
"They have been unable to provide any information about the numbers of current employees or what the future may hold for them.
"We know that the company have other businesses in the area, but they have been unwilling to disclose any further information about whether or not staff could be moved to these sites.
"With the restaurant set to close on Monday, it is imperative that the company engage with staff, unions and local elected members."
The chain restaurant had been praised by city centre councillor Peter Barrett, who said: "The Fair Maid Stonehouse has earned a reputation for high customer service, serving quality meals which are good value for money.
"In better times, that combination should have been enough for a successful and sustainable enterprise."