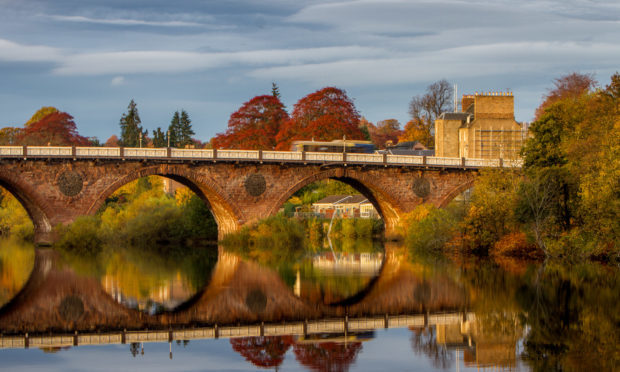 Perth and Kinross Council have refused to disclose the cost of the bollards purchased for their ongoing Perth Bridge works.
The local authority closed off the busy city centre bridge, also known as Smeaton's Bridge, in May for a fortnight in order to install bollards for safety purposes.
The winged footpaths which protrude from each side of the 18th century Tay crossing are too shallow to support the weight of any vehicle which veered to the side or mounted the kerb.
As a result, Perth and Kinross Council forked out on 64 cast iron bollards to line the pavement, designed to be "in keeping with the historic nature" of the bridge. It has been confirmed that 58 of the posts would be installed and the remainder kept as replacements.
Road workers were unable to install the bollards at first time of asking, as a snafu with the bridges drawings prevented the 80cm high bollards from being installed.
However, after two weeks of road restrictions and nothing to show, the council began rectifying the debacle in July, closing the northbound lane on the bridge between 7am and 7pm for a further eight weeks, set to conclude on August 30.
Meanwhile, work is under way on a £300,000 upgrade of the bridge's lighting, replacing the 30-year-old lamp-posts.
The council have confirmed that the same 58 posts are being used in the revised designs, but have refused to disclose the cost of the posts in a recent Freedom of Information request.
A council spokesperson explained: "Perth and Kinross Council is currently undertaking the procurement process to appoint a contractor for the bollard installation works on Perth Bridge.
"It was necessary to reschedule the works, as previously advised, following further assessment of the footway depths on the bridge.
"With regards to our FOI response, the council is under a statutory duty to secure best value for the services it provides.
"Under the FOI legislation, it has been determined that disclosure of individual costs would interfere with commercial competition amongst those who supply or seek to supply services to the council, which would run counter to the pursuit of best value."