A Perth biker has asked the Good Samaritans who stopped for him after he was involved in a shocking crash on the M90 to come forward.
Close protection officer and chauffeur Mark McConnell came off his bike on the slip road leaving Perth towards Bridge of Earn just over a fortnight ago.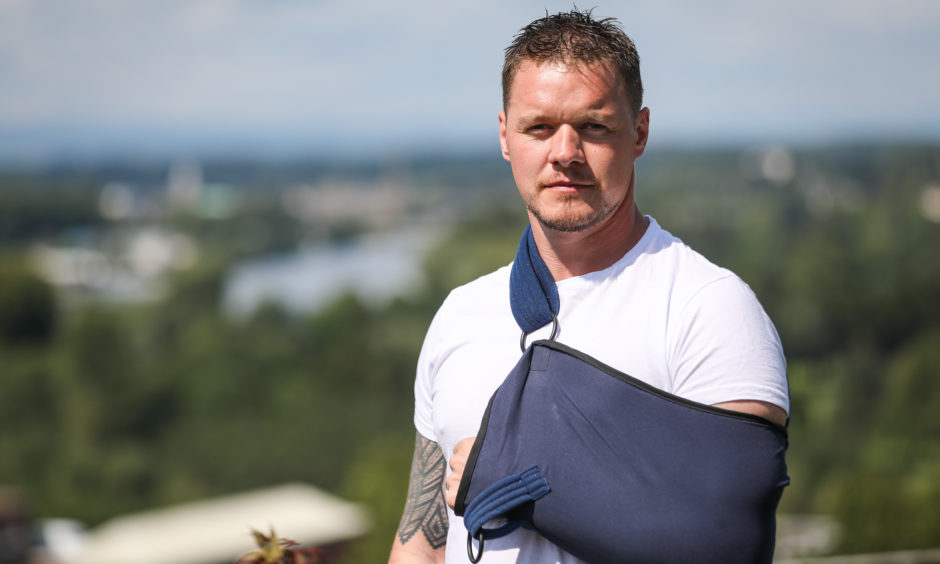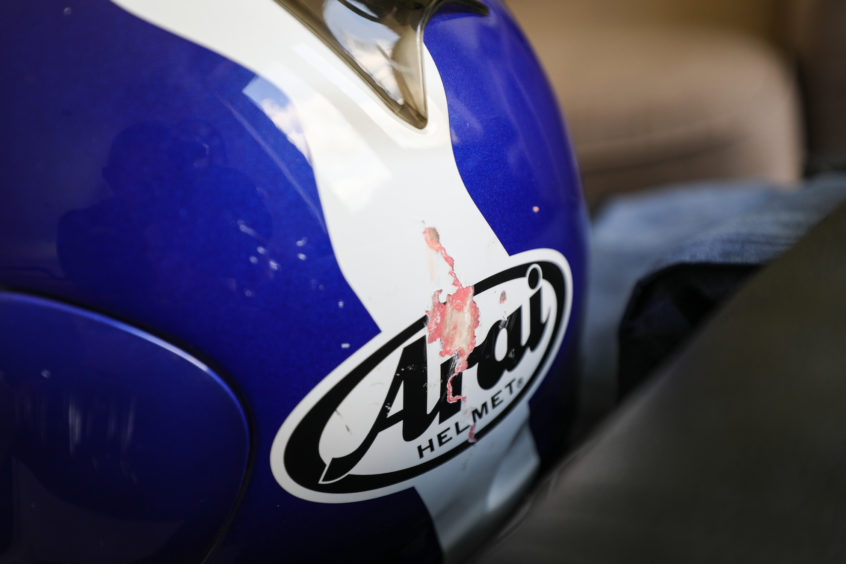 The 37-year-old had to swerve to dodge rubble on the road and clipped hidden concrete on the grass verge.
He said: "I could see debris and rubble on the road. I thought I was going to go over if I stayed as I was, so I stood the bike up and went over the grass verge.
"The next thing, I had a massive bang on the back of my head. I thought someone had hit me from behind.
"I was in the middle of the oncoming road, dizzy, thinking 'what's going on'? I scrambled off the side of the road.
"The next thing I knew, there was a guy holding my head and keeping me still. He was saying 'you're alright' and that there was an ambulance on the way.
"There was nothing on the verge so we went down later to see where I ended up. In the middle of the grass were two concrete manhole covers you can't see so that's obviously what I hit."
Passing motorists stopped for Mark and he wants to thank them for their actions.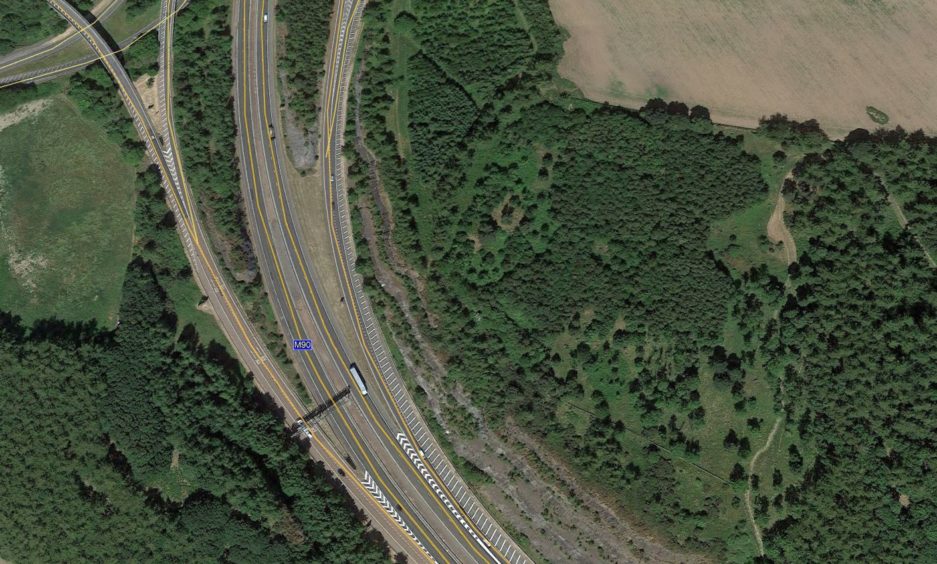 He said: "There were a couple of others who stopped to help, a lady and an old English gentleman. It was just good of them to stop.
"I'm really thankful they stopped. The police arrived – both bikers – and were brilliant. The ambulance service were absolutely tip-top.
"All my leathers were cut off me and my bike was a write-off. I've just a piece of plastic and a piece of metal left. I was pretty gutted.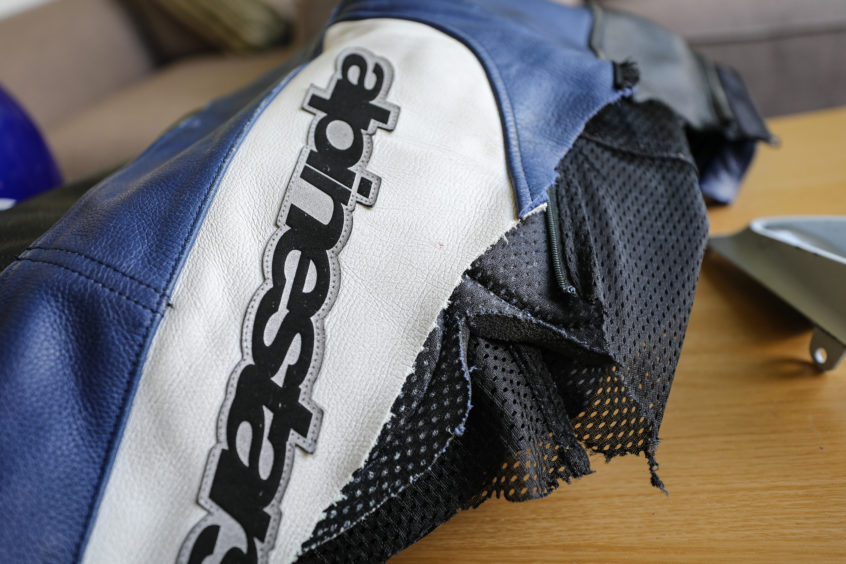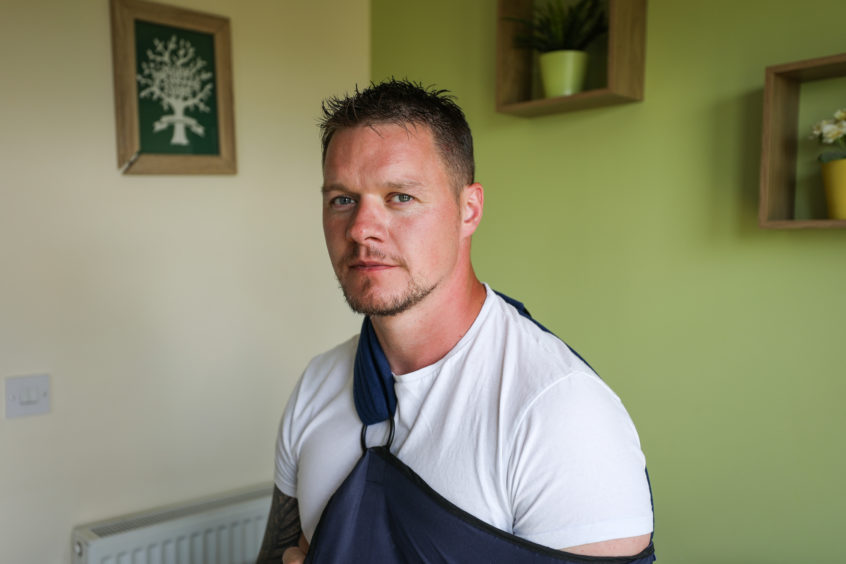 "I got to Ninewells and the trauma team were waiting, it was like something off TV. I'd been given ketamine so I didn't even know what time it was.
"The pain was quite bad in my chest and I found out I had three broken ribs and a fractured clavicle. I stayed overnight and I've got physiotherapy and fracture clinic coming up.
"I'm on the road to recovery. I was signed off work for eight weeks."
The experienced rider had only had his motorbike since September.
He said: "I had one accident before, on Dunkeld Road in Perth in 2007. A taxi pulled out in front of me and my bike was a write off again."
Having seen drivers speed past bikers who have been involved in crashes, Mark appreciates the support.
"I saw a crash a few years ago on the A9 city bypass, where people were just driving past the biker. I'd hate to be in that situation.
"When I stopped, he was in bits and screaming for what I later found out was his daughter. His teeth were shattered and he'd lost his leg below the knee.
"The white line was wet so he came down, hit the central reservation and and he went onto oncoming traffic.
"We slowed down and watched cars driving past him. I couldn't believe people weren't stopping. We went down and I was first on scene.
"I had medical training in the forces but if you've no idea, just stop and speak to them. Hold their hand, keep them engaged and speak to them. It's reassurance and a bit of comfort.
"I'd really like to see the people who stopped for me again and thank them properly. I never got their names.
"One man said he was going to a barbecue in Kinloch Rannoch and it was Dario Brown decorators from Scone who actually put my bike in the back of his van and brought it back to me when I was out of hospital."
If you stopped for Mark, please contact The Courier and we can put you in touch.