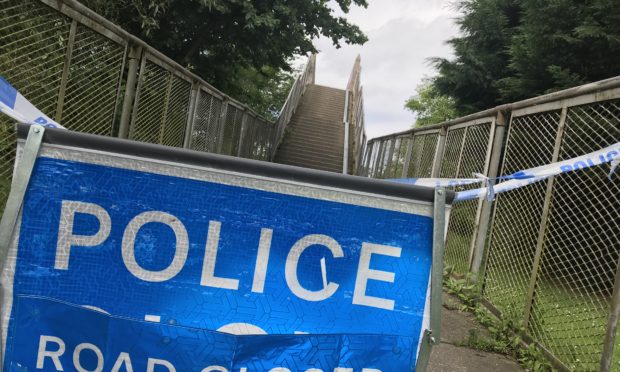 Police locked down a Perth railway crossing as detectives re-open the books on an historic case.
The well-used footbridge, connecting the city's Fairfield and Muirton, has been taped off by investigators.
Police Scotland said the bridge could be out of use for some time, while inquiries into old allegations are carried out.
The force declined to say what is being investigated and refused to comment on speculation that it relates to reports of a serious assault from a few years ago.
A spokesman said: "This is in connection with an historical inquiry and is not an ongoing incident."
He added, for operational reasons, he could not give out any further details.
Known as the White Bridge, the walkway runs from Rae Place off Dunkeld Road, close to Perth College's Crieff Road campus.
It is a well-used shortcut and links the housing estates of Fairfield and Muirton, just over a mile away from Perth Station.
Residents in nearby Rae Place said they had been kept in the dark. One local said: "The police have been here for since tea-time on Tuesday.
"They won't say what it's about and there's been all sorts of rumours flying around.
"Two or three years ago, there was a lot of police in the same area after a woman was supposedly attacked underneath the bridge.
"At the time, they had forensic teams in white suits for a few days, but we never heard any more about it."
In 2013, a 49-year-old man was found dead at the bridge. At the time, police said there were no suspicious circumstances surrounding the death.
Police vehicles, including a van, were parked up at the foot of the bridge for several hours while uniformed officers stood guard.
Neighbours said the closure of the bridge was causing some inconvenience.
A local said: "I came walking up alongside the rail line and didn't realise the area was taped off from further back to my right.
"I managed to get on to the bridge but was quickly escorted off it by the police and told I would have to take the long way round. It looked pretty serious but the cops wouldn't tell me what was going on."
Trains will not be affected by the investigation.