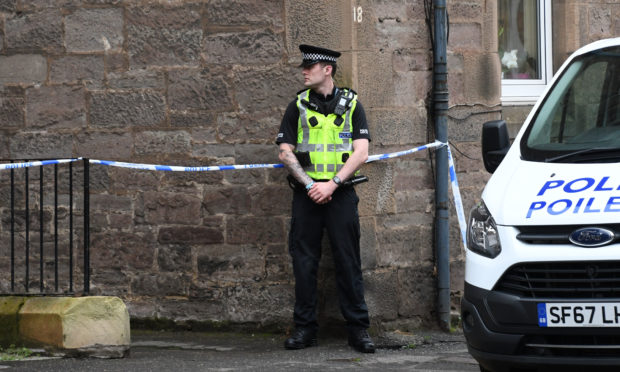 Police have launched an investigation after a woman was sexually assaulted in the centre of Perth.
The attack happened around 1am at New Row in the city centre.
A narrow stretch of alleyway beside the public road was cordoned off by officers yesterday.
The police activity appeared to be centred on an area between the Perth and Kinross Sensory Centre and a nearby block of flats.
Worried residents said they woke to a crime scene on their doorsteps.
One local said: "I heard a young girl was attacked.
"The police car has been parked out there since I came out at 7am.
"You don't like to see something like this."
The alleyway in question is across from Market Street near the High Street.
Locals said there was often a police presence in the area due to trouble on nearby streets, but yesterday's activity was out of the ordinary
One neighbour said: "There's usually a police car parked at St Catherine's Square.
"There's always a police presence up there."
A police spokesperson said: "Police Scotland is carrying out inquiries following a report of a sexual assault on a woman at New Row in Perth about 1am on Thursday August 1.
"The investigation is at an early stage, however officers are following a positive line of enquiry.
"We would like to thank the public for their patience whilst inquiries are being carried out."
In April this year police reported an increase in the number of sexual crimes in Perth and Kinross — and a drop in the number of perpetrators getting caught.
Between April 2018 and March 2019, 336 people reported they had been the victim of a sexual crime, including rape,  within the local authority area – an increase of nearly 16% from the year before.
The Rape and Sexual Abuse Centre (RASAC) in Perth and Kinross has also experienced an increase in the number of calls since last year.
The team dealt with 163 new referrals from April 2018 to May this year – a rise of 41%.
A spokesperson for RASAC said: "We believe that anyone who has experienced sexual violence should be able to feel confident in speaking to the police.
"RASAC offers support to survivors whether or not they report to police.
"Our priority is to ensure that survivors have access to the support they want."