PICTURES: No bell, no phones and no staff room…take a look inside Perth's £32.5m new school
By
Jamie Buchan
August 16 2019, 7.51am
Updated: August 19 2019, 8.26am
Scotland's only 21st Century school is ready for launch.
Headteacher Stuart Clyde has taken the wraps off Bertha Park High, the country's first new secondary school in more than 20 years.
Built as part of a sprawling new community on the northern edge of Perth, the £32.5 million school will welcome its first wave of just over 200 pupils next week.
The Courier has been given a first look inside, with video above this article and the photos below showing pupils what to expect.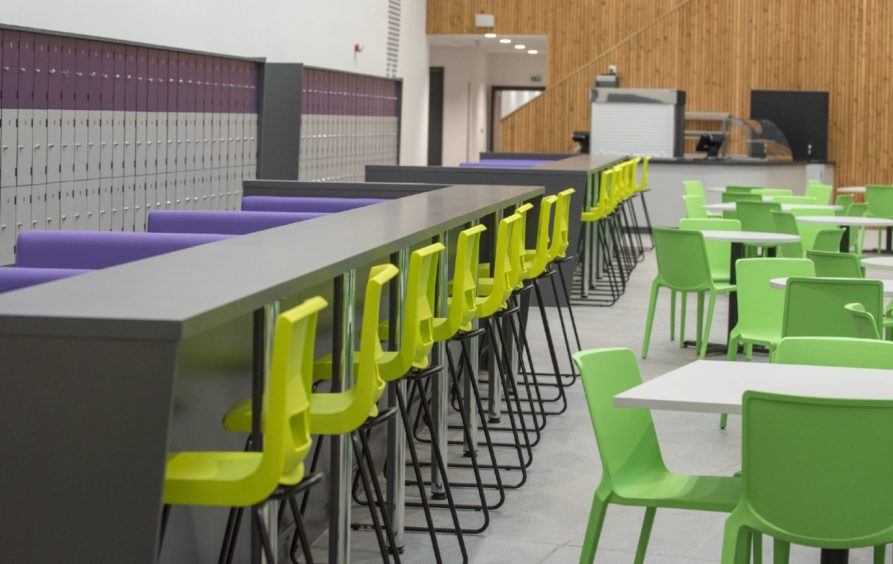 Youngsters from homes on the western side of the A9 will be treated to the very latest in learning experiences. Each child will get their own iPad for use in lessons, while all mobile phones are locked away to encourage a "social media detox".
Mr Clyde revealed some more surprises when he welcomed visitors for a tour yesterday: Bertha Park has no school bell, and there is no dedicated staff room.
He said the team wanted to move away from the traditional "them and us environment".
"What other walk of life would have a space just for management?" he said.
"We want to prepare pupils for the world outside of school, and that sort of staff room doesn't exist anywhere else."
Mr Clyde added: "We also thought about the school bell, something most of us will take for granted.
"Where else, outside of school, do people have to move about to the sound of a bell ringing? It just seems very, very outdated and we decided to get rid of it."
All decisions were made following years of consultation with parents and the wider community.
Mr Clyde, who was previously head at the Community School of Auchterarder, said: "It was very liberating to be able to create a brand new school, and not a replacement building.
"There was nobody to tell us 'you can't do things like that here', because there was no 'here' before. We started with a blank canvas, so we could really challenge the norm.
"It has been a real once-in-a-lifetime opportunity."
At the heart of the 1,100-capacity school is a huge auditorium, with space for performances, audio-visual presentations and a dance studio.
It also boasts a vast science "super lab", as well as three large gym halls and synthetic football pitches outside.
Throughout the building are large, colourful street art style graphics.
Perth and Kinross Council's lifelong learning convener Caroline Shiers said she was very impressed with the results.
"The whole ethos behind Bertha Park is that it is a brand new school, in the middle of a brand new community," she said.
"Its very much state-of-the art construction throughout and it really does have that wow factor that we were looking for."
She said: "I know the first group of S1 and S2 pupils will be very excited about getting inside next week."
She said the school roll will grow with a new wave of S1 pupils added each year.
The school, built by Robertson Construction, has also team-up with US firm Microsoft to become a centre of excellence for digital technology.
Analysis
The Three Rs  – reading, writing and arithmetic – have been at the core of British education since the early 19th Century.
For generations, children have been raised on these fundamental pillars of school life.
But when you enter Bertha Park High, you are greeted with an all new version of the Three Rs – a slogan that encapsulates the ethos that the whole school community has been built around.
Once through the impressive gateway, you see the words: "Respect, respect, respect."
Headteacher Stuart Clyde said the message to pupils is to respect yourself, respect others and have respect for the Bertha Park way. It was a phrase he suggested when he applied for the post a couple of years ago.
And it neatly sums up his bold vision. Without casting aside the original Three Rs – far from it, Bertha Park boasts a huge, modern areas for maths and English – Mr Clyde has shown there are new ways to do things.
With its bright, airy classrooms and eye-catching graphics, it is a far cry from the drab, box-like environment most of us will remember from our school days.
Councils across Scotland, and further afield, will be watching very closely to see how Bertha Park develops and we may see its successes replicated elsewhere. For now, Perth and Kinross Council has set a very high benchmark.