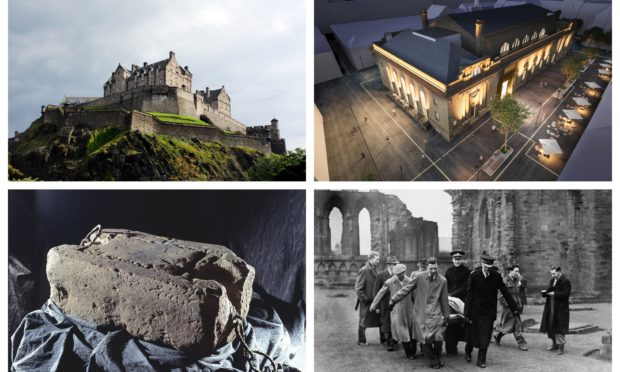 Edinburgh politicians are trying to derail Perth's Stone of Destiny campaign.
MSPs in the capital spoke out after the Scottish Government launched a six-week consultation to decide the fate of one of the country's best known treasures.
Perth and Kinross Council mounted a bid to reclaim the artefact three years ago. It is hoped the Stone of Scone – famously the coronation seat for Scottish kings – can take pride of place at the refurbished Perth City Hall, helping bring in hundreds of thousands of visitors each year.
However, the government received a counter-bid to keep the Stone at Edinburgh Castle, on display alongside the Honours of Scotland.
The public is now being urged to go online and take part in the consultation, before a final decision is taken by the Queen.
Edinburgh Southern Labour MSP Daniel Johnson has insisted that the Stone is kept in the capital, but said a loan to Perth could be considered.
"I don't think we should be precious about it," he told the Edinburgh Evening News. "And there may be some merit in it being on show in Perth.
"But the Stone of Destiny belongs with the Honours of Scotland and we don't want to see them permanently separated."
He said: "A loan and a temporary relocation might be acceptable, but I would want it back in Edinburgh after that."
Lothian Conservative MSP Miles Briggs added: "It makes sense for people to see them all together in one place, and with the large numbers of people visiting Edinburgh Castle it seems the best place to have them.
"Perhaps Perth could borrow it for a bit."
Meanwhile, Iain Whyte, leader of the Tory group on Edinburgh City Council, chipped in: "Why not go the whole hog and take it to Scone?"
Perth and Kinross Council has previously said that it would be difficult to provide security for the Stone if it were placed at its ancestral home, just outside of Perth.
Local Tory MSP Murdo Fraser said he wasn't surprised to see Edinburgh politicians fighting their corner: "But this is Perthshire's stone and it should come back to where it belongs."
He said: "There is no historic connection between the Stone of Destiny and Edinburgh – it has only been at the castle since 1995 – so there really is no argument for it to be retained where it is."
SNP MP Pete Wishart added: "I find the idea that Perth could borrow the stone from Edinburgh for a while to be pretty insulting really.
"In its current location, those wishing to see the stone have to pay a costly ticket price, and the significance of the Stone of Destiny can sometimes be lost in amongst all the other exhibits on display in Edinburgh Castle."
He added: "I understand that Edinburgh-based MSPs have to be seen to be sticking up for their city, but I would encourage them to have a look at the proposals for the exhibition in Perth. I think if they looked at our plans, they would come to the conclusion that Perth is the right location."