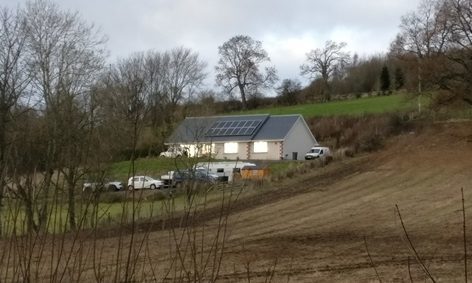 Scottish Ministers have rejected a human rights challenge by the owners of an illegally-built bungalow in rural Perthshire.
After a series of failed appeals, Peter Brown has been told he must stop using the three-bedroom property near Blairgowrie as a home, remove all furniture and fixtures and knock down internal walls.
The businessman insisted he moved in last year, unaware the building did not have planning permission.
Previous owner George Burke only had consent to build a shed on the site and neighbours said at the time it "looked suspiciously like a bungalow".
In early 2018, Perth and Kinross Council took enforcement action, demanding Mr Brown and his family move out.
Mr Brown lost an appeal against the order and the Scottish Government gave him 180 days to leave, or face prosecution.
A separate bid to convert the house into offices was also rejected.
In June, Mr Brown lodged a new challenge against the original enforcement order.
Solicitor Alan Seath argued "Protocal one, article one of Human Rights legislation protects the rights of an individual to enjoy their property peacefully."
He claimed the local authority did not make "any effort to try and accommodate the appellants who will be homeless, or relocated their business".
The Scottish Government's Planning and Environmental Appeals Division has dismissed Mr Brown's appeal.
In his findings, reporter Rob Huntley said that Mr Brown had been given "sufficient" time to vacate.
"I see no reason why the removal of non-load-bearing internal walls need take any very substantial length of time to achieve," he said.
Mr Huntley added: "The appellant suggests that upholding the enforcement notice would interfere with his business activities operating from the site, but does not give details of ways in which this would be manifest.
"The enforcement notice does not require cessation of any business use at the site."
He added: "The appellant maintains that the council has paid no, or insufficient, regard to the provisions of the European Convention or the duty placed on public bodies by the Equality Act.
"It is not open to me… to review whether the council ought to have issued the notice in the first place. Any challenge to the lawfulness of the authority's decision to issue the notice can only be made in the courts by way of a judicial review."
Mr Brown has declined to speak about the case.