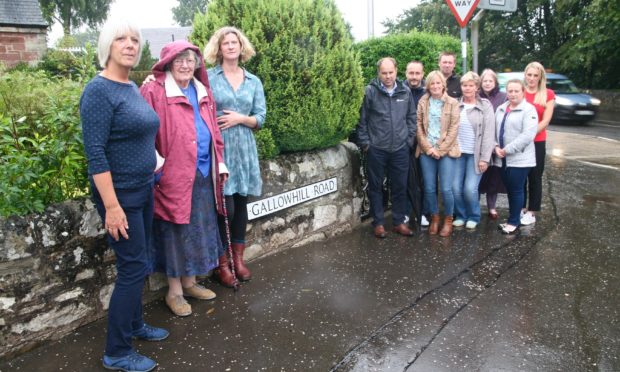 Anxious Kinross residents have demanded controversial plans for the next phase of a major housing development in the town are axed.
Concerned residents have written to Perth and Kinross Council's chief executive demanding the next stage of a development be scrapped due to pupil safety fears and planning issues from the first phase.
Gallowhill Road campaigners submitted the joint letter to Karen Reid, asking that planning permission for a further 195 houses at Lathro Farm be withdrawn.
Persimmon Homes' next stage, which sparked 156 objections, would see a major upsurge in traffic on Gallowhill Road, which is a main walking route for pupils heading to and from Kinross High School.
The narrow residential street is outlined as the main access to the new houses, despite existing pavements being so narrow that school pupils are often forced onto the road when in groups and some sections of the street pavement only being passable in single file.
Now residents worry the street could become an accident blackspot, with the overall development set to bring hundreds more cars to the road, backed by issues flagged up by the council's transport planning development engineer.
Developers Persimmon have already been criticised repeatedly for multiple planning infringements at the site since beginning the contentious first phase of houses.
The community already has fears over housing density in the area and have now sent their letter to Ms Reid.
It read: "Gallowhill Road is used as a through route by hundreds of Kinross High School children aged between 11 and 18, many of whom are forced onto the road due to the narrow pavement width.
"It is the main access road for Gallowhill Caravan Site and therefore carries wide vehicles including caravans, motor homes and tractors.
"We want to express our serious concerns for the safety of pedestrians, the protection of the environment and for the lack of inclusive mobility should phase two proceed."
Perth and Kinross Council said that they are preparing a response and are aware of the issues with the pavement.
A council spokesperson said: "We are aware of the concerns being raised and we can confirm that a revised planning application for phase two of the development is under consideration currently.
"This will be presented to a future meeting of the planning and development management committee. The council will be responding direct to the residents' letter in due course."
Persimmon Homes did not respond to a request for comment.