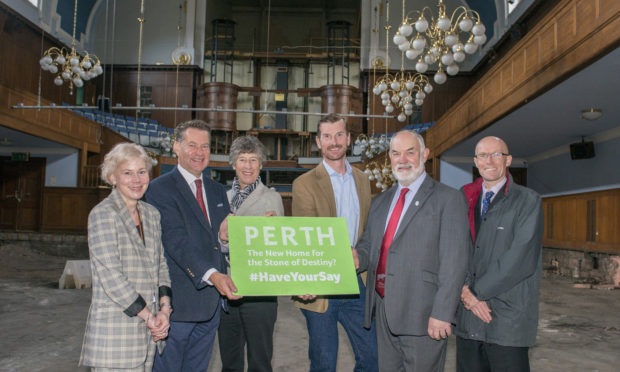 Perthshire's political leaders gathered at the City Hall yesterday as plans for the potential new home of the Stone of Destiny progressed.
The local authority is moving ahead with the refurbishment of the 111-year-old building which is set to open in two years time.
Perth and Kinross Council is investing £20 million in converting the venue into a museum.
Council chiefs hope to hear good news from the Scottish Government at the end of their public consultation this month.
Until September 19, the Holyrood survey is gathering responses on why the Stone of Destiny should be returned to the Fair City.
If the bid is successful, the stone would be the jewel in the crown of the project, which will feature exhibitions into the Jacobite clearings in Highland Perthshire as well as touring exhibits.
A further £3m in the project's budget is to be spent on revamping the surrounding infrastructure.
An internal passage to connect neighbouring vennels around the St Johns's Place concourse with the surrounding streetscape will undergo a major refurbishment nearer the scheduled 2021 opening date.
Main entrances to the City Hall will come from the north and south sides and the historic front entrance will be closed, with the foyer becoming an exhibition space.
The council's planning officers explained surrounding streets will be regenerated to fit the High Street's palette.
The cobbled streets will be given some much-needed attention, with soft landscaping and street furniture installed,  similar vein to what is at Perth Concert Hall.
Three of the surrounding vennels will be given a face lift to spruce up the city's cafe quarter.
MSPs Murdo Fraser and Liz Smith and Perth and Kinross Council's Conservative and SNP group leaders Murray Lyle and Dave Doogan were given a tour of the work-in-progress to see where the stone could sit, should the campaign prove successful.
Ms Smith said: "This is really exciting to see and we are confident that we can bring the stone to Perth.
"This is an amazing project which can bring a lot to Perth, culturally and emotionally and the feedback we have received is extremely positive."
Mr Doogan added: "This is the first time I have been in the City Hall in 20 years. Once completed, this will add a lot to Perth and district and it is vital that we get the proper offer to attract people.
"The case made by the council is by far the most appropriate in terms of security, preservation and location."