Pro-independence marchers took to the streets of Perth city centre on Saturday.
The group set off from Seven Acres in Letham at 1pm and followed a three-mile route across Perth to the North Inch.
Counter-protesters mustered on King Edward Street, which the procession passed.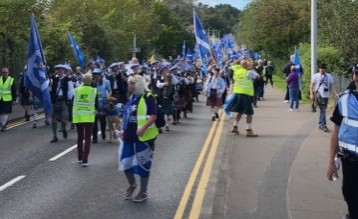 The march led to road closures across Perth, with routes reopening behind the parade as it passed through.
The peaceful protest was the seventh All Under One Banner march to take place this year.
PERTH PARADE ROADS INFO SATURDAY 7th

This Saturday, a large parade is being held in Perth by the All Under One Banner organisation. There will be significant disruption to traffic in and around Perth from 12pm to 6pm. Full details at https://t.co/tp6Xz1axZq pic.twitter.com/ruy9RnXvoe

— TaysidePolice (@TaysidePolice) September 5, 2019
The campaigners heard speeches from SNP MSP John Swinney and SNP MP Pete Wishart.
Lovely afternoon in the #Perth sunshine at the Independence march. Photo credits @PeteWishart and @LesleyRiddoch pic.twitter.com/iiXLxViU72

— John Swinney (@JohnSwinney) September 7, 2019
Some of my speech from today's independence rally. One message. Join us, join us, join us. I think you'll definitely like it. https://t.co/Q46h5pEZAc

— Pete Wishart (@PeteWishart) September 7, 2019
All under one banner independence march Perth. #auob #auobperth pic.twitter.com/kadvQvJwaz

— colin mearns (@MearnsColin) September 7, 2019
Speaking to The Courier in August, All Under One Banner's founder and spokesman Neil MacKay said: "It's a good event, but we're here for more than just the social side.
"We've been working with Yes Perth City to put this together and we're all here because we want to see an independent Scotland with full powers."
More to follow.